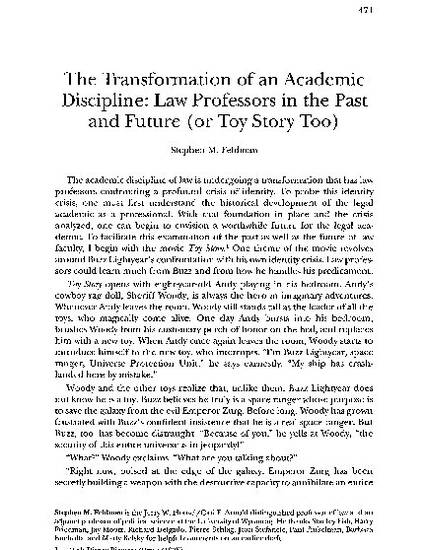 Article
The Transformation of an Academic Discipline: Law Professors in the Past and Future (or Toy Story Too)
Journal of Legal Education (2004)
Abstract
Since the post-Civil War era law professors have perceived themselves first and foremost as lawyers. For the most part, during that time, we were lawyers teaching students about the law and about how to practice law. But we were not merely lawyers teaching apprentices. We were law professors, mostly in university-affiliated law schools, who wrote scholarly articles and books. Even so, our scholarship revolved around our perception of ourselves as lawyers. We wrote to reform and to improve the law. Through our scholarship we directly participated in the legal system, in legal and judicial practices, by advising lawyers and judges, or at least so we imagined. Today law professors' sense of themselves as primarily lawyers is crumbling. Our claimed connection to legal and judicial practices, our imagined participation in the legal system, increasingly appears spurious. Recent recommendations for the future direction of legal scholarship reflect our uncertainties. But if we are not lawyers, what are we? The most likely answer--our new or future self-identity, so to speak--appears to be that we are university professors. But this answer provides a future that seems, to many, uncertain and frightening. If, after all these years, we recognize that we really are more university professor than lawyer, then exactly what type of university professor might we be? What are our purposes?
Keywords
legal academia,
legal education
Citation Information
Stephen M. Feldman. "The Transformation of an Academic Discipline: Law Professors in the Past and Future (or Toy Story Too)"
Journal of Legal Education
Vol. 54 (2004)
Available at: http://works.bepress.com/stephen_m_feldman/38/