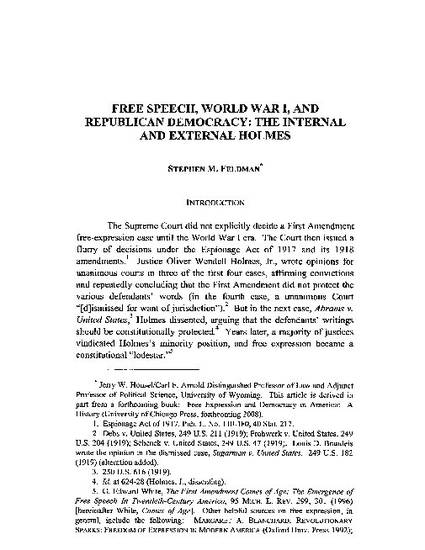 Article
Free Speech, World War I, and Republican Democracy: The Internal and External Holmes
First Amendment Law Review (2008)
Abstract
Justice Oliver Wendell Holmes, Jr., wrote the seminal free-expression opinions in a series of cases arising during the World War I era. Holmes wrote three majority opinions upholding convictions for expression proscribed under the Espionage Act and its amendments. Then he wrote his famous Abrams v. United States dissent, arguing that the first amendment protected the defendants' writings. Despite the consensus about the importance of these cases, scholars have disagreed about Holmes's votes and opinions. Did his Abrams dissent manifest a changed attitude toward the first amendment, or had Holmes always been a principled defender of free expression' Why did Holmes suddenly find expression constitutionally protected, while the majority of justices continued to find it criminally punishable' To resolve these puzzles and to understand the World War I cases, one must first understand a surprising connection between democracy and free expression. Whereas today, judges and scholars universally deem free expression prerequisite to democracy, before the 1930s, judges and scholars allowed the government to subordinate individual liberties - including free speech and a free press - to a republican democratic common good. This connection between free expression and democracy casts the World War I cases into a new light. Ultimately, then, this Article demonstrates that, from an external standpoint, Holmes changed significantly, but that, from an internal standpoint, he never admitted or recognized such a transformation.
Keywords
free expression,
Oliver Wendell Holmes,
first amendment,
democracy
Citation Information
Stephen M. Feldman. "Free Speech, World War I, and Republican Democracy: The Internal and External Holmes"
First Amendment Law Review
Vol. 6 (2008)
Available at: http://works.bepress.com/stephen_m_feldman/19/