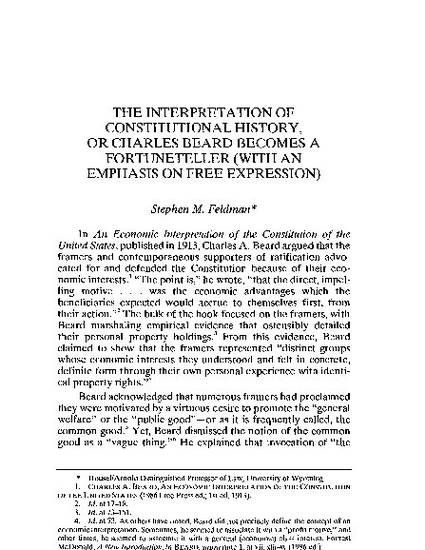 Article
The Interpretation of Constitutional History, or Charles Beard Becomes a Fortuneteller (With an Emphasis on Free Expression)
Constitutional Commentary (2014)
Abstract
In "An Economic Interpretation of the Constitution of the United States", Charles A. Beard argued that the framers advocated for and defended the Constitution because of their personal economic interest, that the pursuit of common good was not so much a motive as a veneer. The current historical consensus is that Beard's thrust is incorrect. In this essay, I largely agree with this assessment, but his economic approach can add an important element to the discussion of constitutional history. And though his economic depiction does not closely fit the framing of the Constitution, it uncannily fits the Roberts Court's current interpretation of our constitutional order.
Keywords
constitutional history,
constitutional interpretation,
constitution,
Charles Beard,
Economic Interpretation of the United States
Citation Information
Stephen M. Feldman. "The Interpretation of Constitutional History, or Charles Beard Becomes a Fortuneteller (With an Emphasis on Free Expression)"
Constitutional Commentary
Vol. 29 (2014)
Available at: http://works.bepress.com/stephen_m_feldman/11/