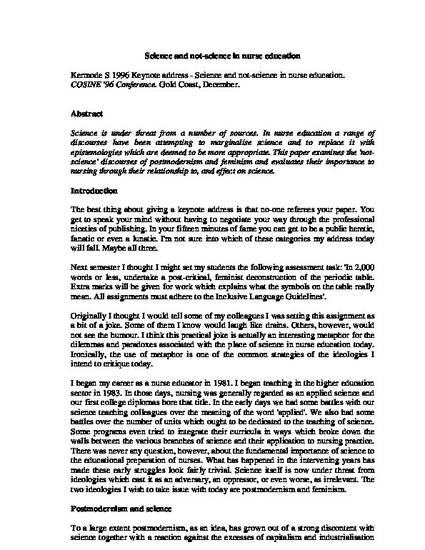 Presentation
Keynote address: Science and not-science in nurse education
Proceedings of the Nursing Research Conference of the NSW Nursing Research Interest Group
Document Type
Conference publication
Publication Date
12-1-1996
Abstract
Science is under threat from a number of sources. In nurse education a range of discourses have been attempting to marginalise science and to replace it with epistemologies which are deemed to be more appropriate. This paper examines the 'not-science' discourses of postmodernism and feminism and evaluates their importance to nursing through their relationship to, and effect on science.
Citation Information
Kermode, S 1996, 'Keynote address: Science and not-science in nurse education', Proceedings of Supporting sciences: facts or frameworks for nursing practice: Conference on Science in Nursing Education - COSINE '96 Conference, Gold Coast, Qld., Queensland University of Technology and Science in Nursing Education, Brisbane, Qld.