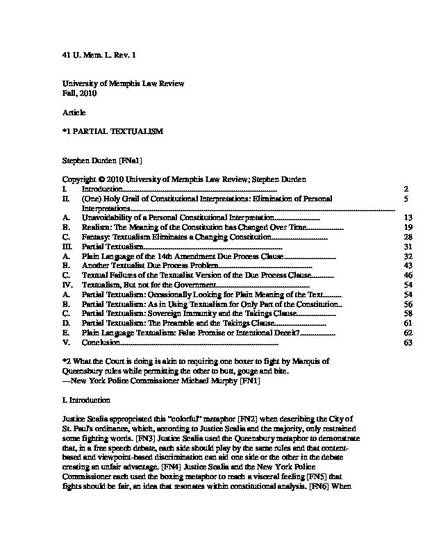 Article
Partial Textualism
Memphis Law Review (2010)
Abstract
This Article seeks to demonstrate that plain meaning textualists do not apply plain meaning textualism to the entire Constitution. Instead, plain meaning textualists indulge their personal predilections and apply the doctrine of "partial textualism," which selectively applies plain meaning textualism to only part of, rather than the entire, Constitution. Partial textualism destroys any possible fairness value to plain meaning textualism. Indeed, such an approach is entirely inconsistent with the goals of plain language textualism. Through examining the Takings Clause, this Article demonstrates that a plain meaning textualist will commonly apply plain meaning textualism to a part of the Constitution that protects individuals, but apply, or at least rely on, accepted constitutional interpretations that reject plain meaning textualism to expand government power. The Article begins in Part II by describing what methods of interpretation exist and attempts to use the narrow approach of plain meaning textualism to prove that personal predilections form the foundation of any interpretational model. Part III explores the problems that plain meaning textualists face when interpreting the Due Process Clause and how these specific problems cause courts and commentators to resort to partial textualism. Part IV explains how courts and commentators apply partial textualism to sanction laws and expand government power in ways that would likely be invalidated by a plain meaning approach to the entire Constitution. The Article concludes that plain meaning textualism, as it is used today, is used only as a method of achieving a specific, desired result and is not a neutral or fair method at all. Those who assert plain meaning to individual rights, require others to fight by textualist rules, while those same purported textualists ignore plain meaning when its application limits government power. Indeed, the plain meaning textualist is actually a partial textualist, one who applies textualism to only part of the Constitution.
Keywords
Constitutional Law,
Jurisprudence,
Takings Clause,
Constitutional Interpretation,
Textualism
Citation Information
Stephen Durden. "Partial Textualism"
Memphis Law Review
Vol. 41 (2010)
Available at: http://works.bepress.com/stephen_durden/9/