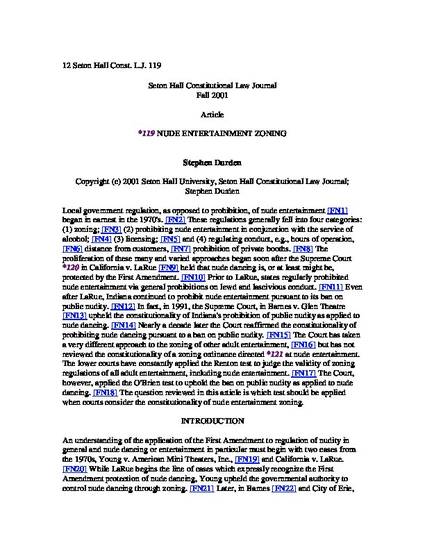 Article
NUDE ENTERTAINMENT ZONING
Seton Hall Constitutional Law (2001)
Abstract
Local government regulation, as opposed to prohibition, of nude entertainment began in earnest in the 1970's. These regulations generally fell into four categories: (1) zoning; (2) prohibiting nude entertainment in conjunction with the service of alcohol; (3) licensing; and (4) regulating conduct, e.g., hours of operation, distance from customers, prohibition of private booths. The proliferation of these many and varied approaches began soon after the Supreme Court in California v. LaRue held that nude dancing is, or at least might be, protected by the First Amendment. Prior to LaRue, states regularly prohibited nude entertainment via general prohibitions on lewd and lascivious conduct. Even after LaRue, Indiana continued to prohibit nude entertainment pursuant to its ban on public nudity. In fact, in 1991, the Supreme Court, in Barnes v. Glen Theatre upheld the constitutionality of Indiana's prohibition of public nudity as applied to nude dancing. Nearly a decade later the Court reaffirmed the constitutionality of prohibiting nude dancing pursuant to a ban on public nudity. The Court has taken a very different approach to the zoning of other adult entertainment, but has not reviewed the constitutionality of a zoning ordinance directed at nude entertainment. The lower courts have constantly applied the Renton test to judge the validity of zoning regulations of all adult entertainment, including nude entertainment. The Court, however, applied the O'Brien test to uphold the ban on public nudity as applied to nude dancing. The question reviewed in this article is which test should be applied when courts consider the constitutionality of nude entertainment zoning.
Keywords
Constitutional Law,
Jurisprudence,
Land Use Planning,
First Amendment,
Constitutional Interpretation,
Expressive Conduct,
Adult Entertainment,
Nude Dancing,
Renton Test,
Time Place Manner,
Secondary Effects
Citation Information
Stephen Durden. "NUDE ENTERTAINMENT ZONING"
Seton Hall Constitutional Law
Vol. 12 (2001)
Available at: http://works.bepress.com/stephen_durden/4/