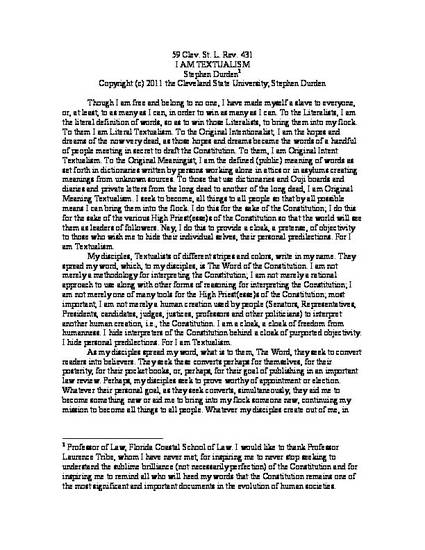 Article
I Am Textualism
Cleveland State Law Review (2011)
Abstract
This essay, consisting of merely 1100 words, satirizes textualism, particularly as applied to the Constitution. Inspired by the idea of something being all things to all people in order to win converts, the essay demonstrates that because textualism has so many different definitions that it in fact has no meaning other than the meaning given by each textualist. Each textualist embraces his or her own version of textualism. Textualists battle to define true textualism. Given the different versions of textualism, each textualist faces the Textualist Conundrum. As each textualist seeks to embraceor prove a purer form of textualism the textualist must reject other versions. The more unique the textualism, the purer the version, the more the textualist has uniquely defined the pure textualism, the more the textualist proves that the choice of a particular form of textualism is simply based on personal predilections. As texualism becomes all things to all textualists, the more it means nothing.
Keywords
Textualism,
Constitutional Interpretation
Publication Date
Winter 2011
Citation Information
Stephen Durden. "I Am Textualism"
Cleveland State Law Review
(2011)
Available at: http://works.bepress.com/stephen_durden/11/