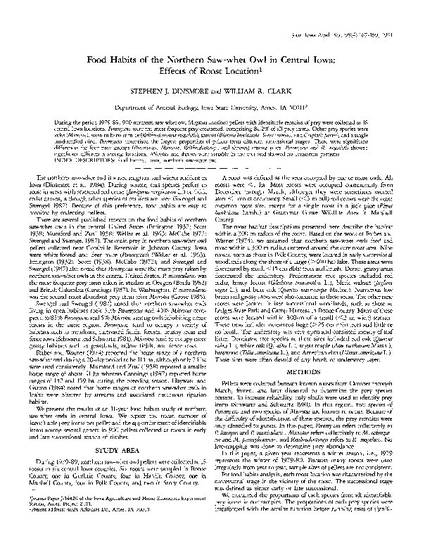 Article
Food Habits of the Northern Saw-whet Owl in Central Iowa: Effects of Roost Location
Journal of the Iowa Academy of Science
Keywords
food habits,
Iowa,
northern saw-whet owl
Abstract
During the period 1979-89, 900 northern saw-whet owl (Aegolius acadicus) pellets with identifable remains of prey were collected at 18 central Iowa locations. Peromyscus were the most frequent prey consumed, comprising 81.2% of all prey items. Other prey species were voles (Microtus), western harvest mice (Reithrodontomys megalotis), shrews (Blarina brevicauda, Sorex cinereus, and Cryptotis parva), and a single unidentified bird. Peromyscus comprised the largest proportion of pellets from different successional stages. There were significant differences for four prey groups (Peromyscus, Microtus, Reithrodontomys, and shrews) among years. Peromyscus and R. megalotis showed significant differences among locations. Microtus and shrews were variable in the diet and showed no consistent patterns.
Original Publication Date
1-1-1991
Publication Date
December 1991
Copyright
© Copyright 1991 by the Iowa Academy of Science, Inc.
File Format
application/pdf
Citation Information
Stephen J. Dinsmore and William R. Clark. "Food Habits of the Northern Saw-whet Owl in Central Iowa: Effects of Roost Location"
Journal of the Iowa Academy of Science
Vol. 98 Iss. 4 (1991) p. 167 - 169
Available at: http://works.bepress.com/stephen_dinsmore/89/