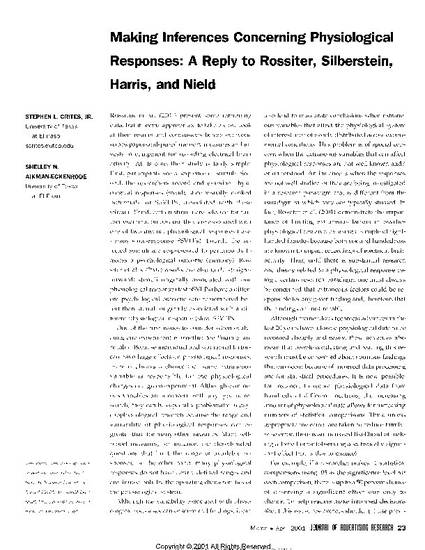 Article
Making inferences concerning physiological responses: A reply to Rossiter, Silberstein, Harris, & Nield
Journal of Advertising Research (2001)
Abstract
Comments on the J. R. Rossiter et al (see record 2001-01255-001) study of brain electrical activity accompanying visual recognition of TV commercials in long-term memory. According to S. L. Crites and S. N. Aikman-Eckenrode, although it would be useful to be able to predict which scenes in a commercial would be best remembered by examining physiological responses to the initial presentation of a commercial, it is very premature to conclude that the study by Rossiter et al has found a means of doing so.
Citation Information
Stephen L Crites and Shelley N Aikman. "Making inferences concerning physiological responses: A reply to Rossiter, Silberstein, Harris, & Nield"
Journal of Advertising Research
Vol. 41 Iss. 2 (2001)
Available at: http://works.bepress.com/stephen_crites/10/