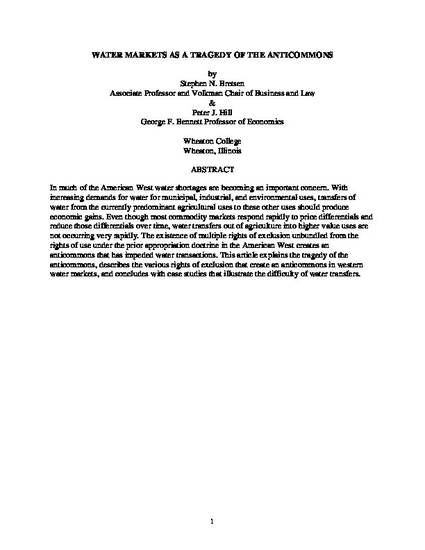 Article
Water Markets as a Tragedy of the Anticommons
William & Mary Environmental Law Review (2009)
Abstract
In much of the American West water shortages are becoming an important concern. With increasing demands for water for municipal, industrial, and environmental uses, transfers of water from the currently predominant agricultural uses to these other uses should produce economic gains. Even though most commodity markets respond rapidly to price differentials and reduce those differentials over time, water transfers out of agriculture into higher value uses are not occurring very rapidly. The existence of multiple rights of exclusion unbundled from the rights of use under the prior appropriation doctrine in the American West creates an anticommons that has impeded water transactions. This article explains the tragedy of the anticommons, describes the various rights of exclusion that create an anticommons in western water markets, and concludes with case studies that illustrate the difficulty of water transfers.
Keywords
water law,
water transfers,
water markets,
anticommons,
prior appropriation,
irrigation,
irrigation districts,
Bureau of Reclamation,
public interest,
public trust,
California,
New Mexico
Publication Date
Spring 2009
Citation Information
Stephen N. Bretsen and Peter J. Hill. "Water Markets as a Tragedy of the Anticommons"
William & Mary Environmental Law Review
Vol. 33 Iss. 3 (2009)
Available at: http://works.bepress.com/stephen_bretsen/1/