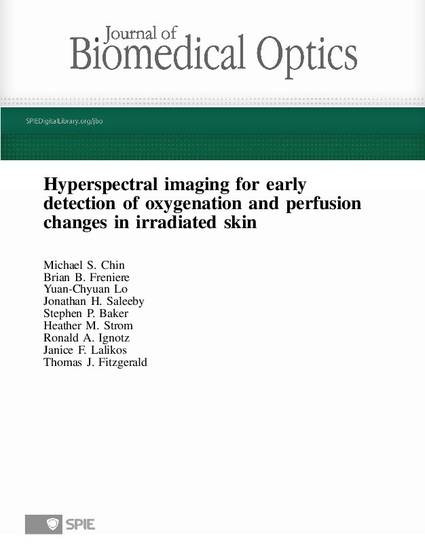 Article
Hyperspectral imaging for early detection of oxygenation and perfusion changes in irradiated skin
Quantitative Health Sciences Publications and Presentations
UMMS Affiliation
Department of Quantitative Health Sciences; Center for Academic Achievement; Department of Surgery; Department of Radiation Oncology; School of Medicine; Senior Scholars Program
Publication Date
3-5-2012
Subjects
Animals; Mice; Mice, Nude; Oximetry; *Oxygen Consumption; Perfusion Imaging; Radiodermatitis; Reproducibility of Results; Sensitivity and Specificity
Abstract
Studies examining acute oxygenation and perfusion changes in irradiated skin are limited. Hyperspectral imaging (HSI), a method of wide-field, diffuse reflectance spectroscopy, provides noninvasive, quantified measurements of cutaneous oxygenation and perfusion. This study examines whether HSI can assess acute changes in oxygenation and perfusion following irradiation. Skin on both flanks of nude mice (n=20) was exposed to 50 Gy of beta radiation from a strontium-90 source. Hyperspectral images were obtained before irradiation and on selected days for three weeks. Skin reaction assessment was performed concurrently with HSI. Desquamative injury formed in all irradiated areas. Skin reactions were first seen on day 7, with peak formation on day 14, and resolution beginning by day 21. HSI demonstrated increased tissue oxygenation on day 1 before cutaneous changes were observed (p
Rights and Permissions
Copyright 2009 Society of Photo-Optical Instrumentation Engineers. Publisher PDF posted as allowed by the publisher's author rights policy at http://spie.org/x85011.xml.
DOI of Published Version
10.1117/1.JBO.17.2.026010
Source
Chin MS, Freniere BB, Lo Y, et al; Hyperspectral imaging for early detection of oxygenation and perfusion changes in irradiated skin. J. Biomed. Opt. 0001;17(2):026010-1-026010-5. doi:10.1117/1.JBO.17.2.026010.
Link to article on publisher's site
Citation Information
Michael S. Chin, Brian B. Freniere, Yuan-Chyuan Lo, Jonathan H. Saleeby, et al.. "Hyperspectral imaging for early detection of oxygenation and perfusion changes in irradiated skin" Vol. 17 Iss. 2 (2012) ISSN: 1083-3668 (Linking)
Available at: http://works.bepress.com/stephen_baker/105/