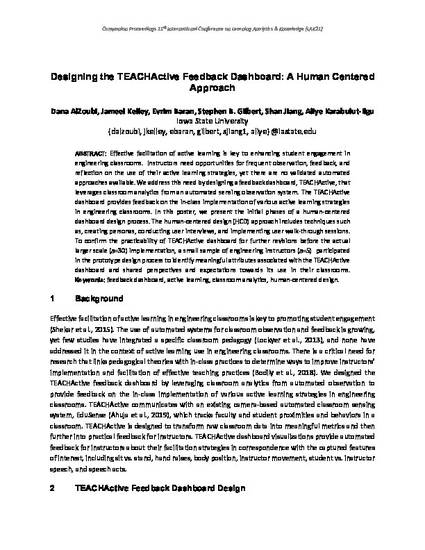 Presentation
Designing the TEACHActive Feedback Dashboard: A Human Centered Approach
Companion Proceedings of the 11th International Conference on Learning Analytics & Knowledge (LAK21)
Document Type
Conference Proceeding
Publication Version
Published Version
Publication Date
4-1-2021
Conference Title
Eleventh International Conference on Learning Analytics and Knowledge (LAK21)
Conference Date
April 12-16, 2021
Abstract
Effective facilitation of active learning is key to enhancing student engagement in engineering classrooms. Instructors need opportunities for frequent observation, feedback, and reflection on the use of their active learning strategies, yet there are no validated automated approaches available. We address this need by designing a feedback dashboard, TEACHActive, that leverages classroom analytics from an automated sensing observation system. The TEACHActive dashboard provides feedback on the in-class implementation of various active learning strategies in engineering classrooms. In this poster, we present the initial phases of a human-centered dashboard design process. The human-centered design (HCD) approach includes techniques such as, creating personas, conducting user interviews, and implementing user walk-through sessions. To confirm the practicability of TEACHActive dashboard for further revisions before the actual larger scale (n=30) implementation, a small sample of engineering instructors (n=5) participated in the prototype design process to identify meaningful attributes associated with the TEACHActive dashboard and shared perspectives and expectations towards its use in their classrooms.
Creative Commons License
Creative Commons Attribution-Noncommercial-Share Alike 3.0
Copyright Owner
The Author(s)
File Format
application/pdf
Citation Information
Dana AlZoubi, Jameel Kelley, Evrim Baran, Stephen B. Gilbert, et al.. "Designing the TEACHActive Feedback Dashboard: A Human Centered Approach"
Companion Proceedings of the 11th International Conference on Learning Analytics & Knowledge (LAK21)
(2021) p. 124 - 126
Available at: http://works.bepress.com/stephen_b_gilbert/100/