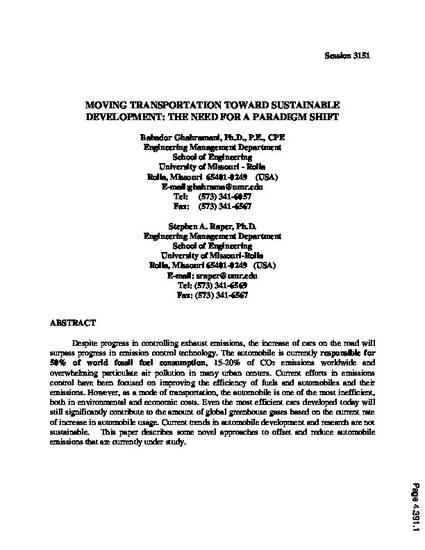 Article
Moving Transportation toward Sustainable Development: The Need for a Paradigm Shift
Proceedings of the 1999 ASEE Annual Conference (1999, Charlotte, NC)
Abstract
Despite progress in controlling exhaust emissions, the increase of cars on the road will surpass progress in emission control technology. The automobile is currently responsible for 50% of world fossil fuel consumption, 15-20% of CO2 emissions worldwide and overwhelming particulate air pollution in many urban centers. Current efforts in emissions control have been focused on improving the efficiency of fuels and automobiles and their emissions. However, as a mode of transportation, the automobile is one of the most inefficient, both in environmental and economic costs. Even the most efficient cars developed today will still significantly contribute to the amount of global greenhouse gases based on the current rate of increase in automobile usage. Current trends in automobile development and research are not sustainable. This paper describes some novel approaches to offset and reduce automobile emissions that are currently under study.
Meeting Name
1999 ASEE Annual Conference (1999: Jun. 20-23, Charlotte, NC)
Department(s)
Engineering Management and Systems Engineering
Keywords and Phrases
Air pollution,
Automobiles,
Economic and social effects,
Energy utilization,
Fossil fuels,
Sustainable development,
Urban planning,
Control emissions,
Economic costs,
Fossil fuel consumption,
Transportation
Document Type
Article - Conference proceedings
Document Version
Final Version
Rights
© 1999 American Society of Engineering Education (ASEE), All rights reserved.
Publication Date
6-1-1999
Citation Information
Bahador Ghahramani and Stephen A. Raper. "Moving Transportation toward Sustainable Development: The Need for a Paradigm Shift"
Proceedings of the 1999 ASEE Annual Conference (1999, Charlotte, NC)
(1999) p. 4.391.1 - 4.391.13 ISSN: 0190-1052
Available at: http://works.bepress.com/stephen-raper/9/