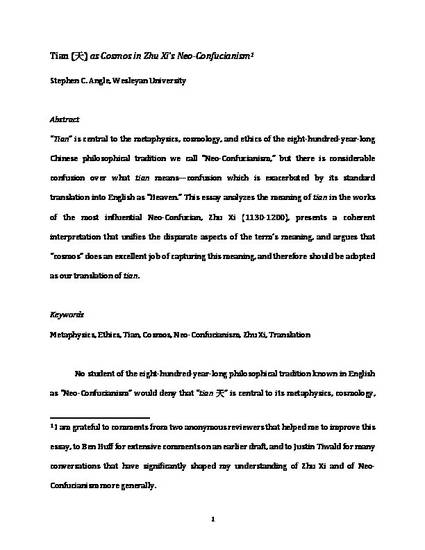 Article
Tian as Cosmos in Zhu Xi's Neo-Confucianism
Dao: A Journal of Comparative Philosophy (2018)
Abstract
"Tian" is central to the metaphysics, cosmology, and ethics of the eight-hundred-year-long Chinese philosophical tradition we call "Neo-Confucianism," but there is considerable confusion over what tian means—confusion which is exacerbated by its standard translation into English as "Heaven." This essay analyzes the meaning of tian in the works of the most influential Neo-Confucian, Zhu Xi (1130-1200), presents a coherent interpretation that unifies the disparate aspects of the term's meaning, and argues that "cosmos" does an excellent job of capturing this meaning, and therefore should be adopted as our translation of tian.
Keywords
Metaphysics,
Ethics,
Tian,
Cosmos,
Neo-Confucianism,
Zhu Xi,
Translation,
China
Citation Information
Stephen C. Angle. "Tian as Cosmos in Zhu Xi's Neo-Confucianism"
Dao: A Journal of Comparative Philosophy
(2018)
Available at: http://works.bepress.com/stephen-c-angle/86/