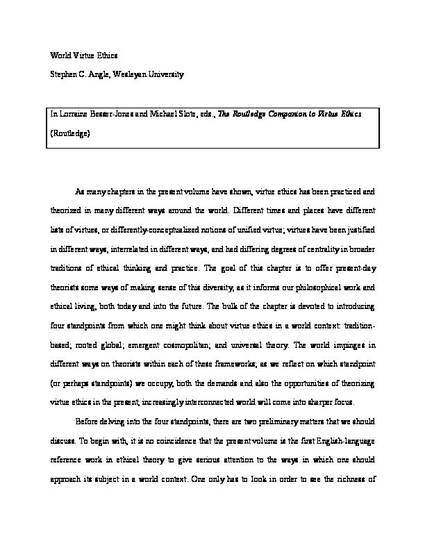 Contribution to Book
World Virtue Ethics
The Routledge Companion to Virtue EThics (2015)
Abstract
As many chapters in the present volume have shown, virtue ethics has been practiced and theorized in many different ways around the world. Different times and places have different lists of virtues, or differently-conceptualized notions of unified virtue; virtues have been justified in different ways, interrelated in different ways, and had differing degrees of centrality in broader traditions of ethical thinking and practice. The goal of this chapter is to offer present-day theorists some ways of making sense of this diversity, as it informs our philosophical work and ethical living, both today and into the future. The bulk of the chapter is devoted to introducing four standpoints from which one might think about virtue ethics in a world context: tradition- based; rooted global; emergent cosmopolitan; and universal theory. The world impinges in different ways on theorists within each of these frameworks; as we reflect on which standpoint (or perhaps standpoints) we occupy, both the demands and also the opportunities of theorizing virtue ethics in the present, increasingly interconnected world will come into sharper focus. 
Editor
Lorraine Besser-Jones and Michael Slote
Citation Information
Stephen C. Angle. "World Virtue Ethics"
The Routledge Companion to Virtue EThics
(2015)
Available at: http://works.bepress.com/stephen-c-angle/72/