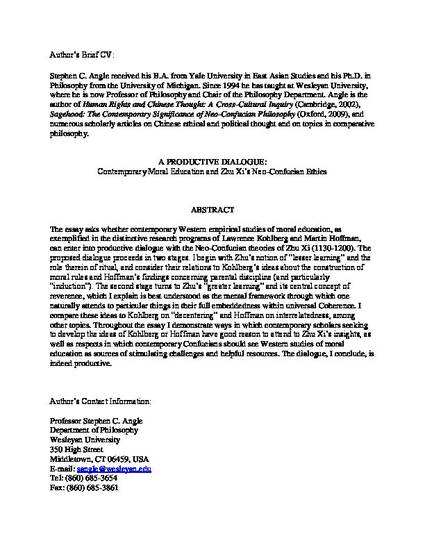 Article
A Productive Dialogue: Contemporary Moral Education and Zhu Xi's Neo-Confucian Ethics
Journal of Chinese Philosophy (2012)
Abstract
The essay asks whether contemporary Western empirical studies of moral education, as exemplified in the distinctive research programs of Lawrence Kohlberg and Martin Hoffman, can enter into productive dialogue with the Neo-Confucian theories of Zhu Xi (1130-1200). The proposed dialogue proceeds in two stages. I begin with Zhu's notion of "lesser learning" and the role therein of ritual, and consider their relations to Kohlberg's ideas about the construction of moral rules and Hoffman's findings concerning parental discipline (and particularly "induction"). The second stage turns to Zhu's "greater learning" and its central concept of reverence, which I explain is best understood as the mental framework through which one naturally attends to particular things in their full embeddedness within universal Coherence. I compare these ideas to Kohlberg on "decentering" and Hoffman on interrelatedness, among other topics. Throughout the essay I demonstrate ways in which contemporary scholars seeking to develop the ideas of Kohlberg or Hoffman have good reason to attend to Zhu Xi's insights, as well as respects in which contemporary Confucians should see Western studies of moral education as sources of stimulating challenges and helpful resources. The dialogue, I conclude, is indeed productive.
Citation Information
Stephen C. Angle. "A Productive Dialogue: Contemporary Moral Education and Zhu Xi's Neo-Confucian Ethics"
Journal of Chinese Philosophy
Vol. 38 (2012)
Available at: http://works.bepress.com/stephen-c-angle/58/