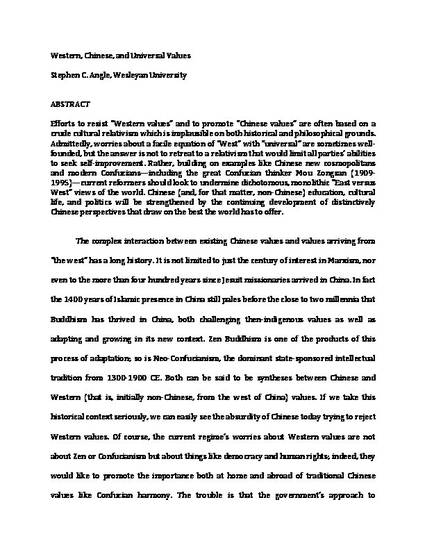 Article
Western, Chinese, and Universal Values
Telos (2015)
Abstract
Efforts to resist "Western values" and to promote "Chinese values" are often based on a crude cultural relativism which is implausible on both historical and philosophical grounds. Admittedly, worries about a facile equation of "West" with "universal" are sometimes well-founded, but the answer is not to retreat to a relativism that would limit all parties' abilities to seek self-improvement. Rather, building on examples like Chinese new cosmopolitans and modern Confucians—including the great Confucian thinker Mou Zongsan (1909-1995)—current reformers should look to undermine dichotomous, monolithic "East versus West" views of the world. Chinese (and, for that matter, non-Chinese) education, cultural life, and politics will be strengthened by the continuing development of distinctively Chinese perspectives that draw on the best the world has to offer.
Citation Information
Stephen C. Angle. "Western, Chinese, and Universal Values"
Telos
Vol. 171 (2015)
Available at: http://works.bepress.com/stephen-c-angle/45/