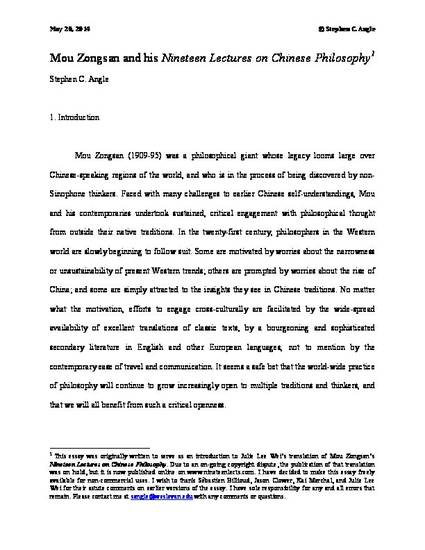 Article
Mou Zongsan and his Nineteen Lectures On Chinese Philosophy
self-published (2014)
Abstract
Mou Zongsan (1909-95) was a philosophical giant whose legacy looms large over Chinese-speaking regions of the world, and who is in the process of being discovered by non- Sinophone thinkers. Faced with many challenges to earlier Chinese self-understandings, Mou and his contemporaries undertook sustained, critical engagement with philosophical thought from outside their native traditions. In the twenty-first century, philosophers in the Western world are slowly beginning to follow suit. Some are motivated by worries about the narrowness or unsustainability of present Western trends; others are prompted by worries about the rise of China; and some are simply attracted to the insights they see in Chinese traditions. No matter what the motivation, efforts to engage cross-culturally are facilitated by the wide-spread availability of excellent translations of classic texts, by a bourgeoning and sophisticated secondary literature in English and other European languages, not to mention by the contemporary ease of travel and communication. It seems a safe bet that the world-wide practice of philosophy will continue to grow increasingly open to multiple traditions and thinkers, and that we will all benefit from such a critical openness. 
Citation Information
Stephen C. Angle. "Mou Zongsan and his Nineteen Lectures On Chinese Philosophy"
self-published
(2014)
Available at: http://works.bepress.com/stephen-c-angle/34/