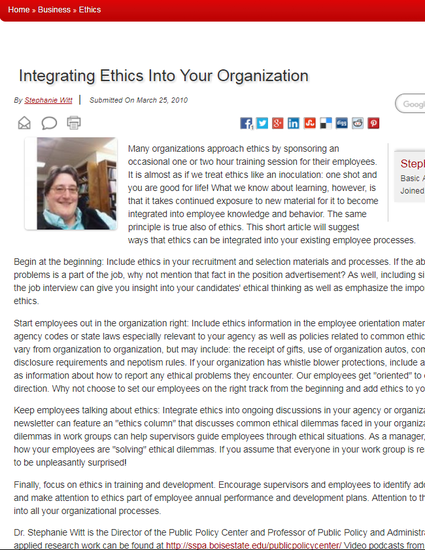 Popular Press
Integrating Ethics into Your Organization
Ezinearticles.com (2010)
Abstract
Many organizations approach ethics by sponsoring an occasional one or two hour training session for their employees. It is almost as if we treat ethics like an inoculation: one shot and you are good for life! What we know about learning, however, is that it takes continued exposure to new material for it to become integrated into employee knowledge and behavior. The same principle is true also of ethics. This short article will suggest ways that ethics can be integrated into your existing employee processes.
Publication Date
March 25, 2010
Citation Information
Stephanie Witt. "Integrating Ethics into Your Organization"
Ezinearticles.com
(2010)
Available at: http://works.bepress.com/stephanie_witt/15/