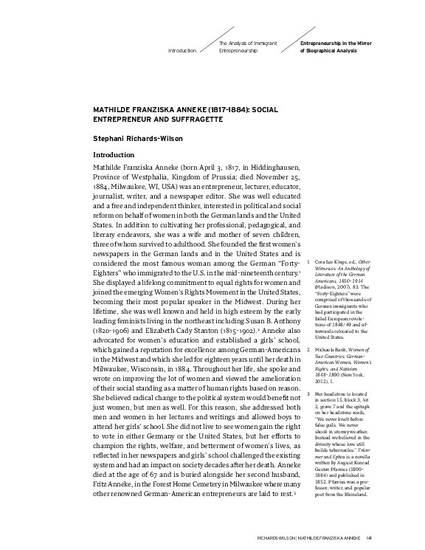 Contribution to Book
Mathilde Franziska Anneke (1817-1884): Social Entrepreneur and Suffragette
German Historical Institute's Immigrant Entrepreneurship Bulletin Supplement: The German-American Experience since 1700. (2016)
Abstract
My article was one of 15 chosen to be included in the print edition of GHI's research project entitled, "Immigrant Entrepreneurship, German-American Business Biographies, 1720 to the Present." Approximately 130 authors researched and posted 200 edited biographies on their website.
Mathilde Franziska Anneke (born April 3, 1817, in Hiddinghausen,
Province of Westphalia, Kingdom of Prussia; died November 25,
1884, Milwaukee, WI, USA) was an entrepreneur, lecturer, educator,
journalist, writer, and a newspaper editor. She was well educated
and a free and independent thinker, interested in political and social
reform on behalf of women in both the German lands and the United
States. In addition to cultivating her professional, pedagogical, and
literary endeavors, she was a wife and mother of seven children,
three of whom survived to adulthood. She founded the first women's
newspapers in the German lands and in the United States and is
considered the most famous woman among the German "Forty-
Eighters" who immigrated to the U.S. in the mid-nineteenth century.
She displayed a lifelong commitment to equal rights for women and
joined the emerging Women's Rights Movement in the United States,
becoming their most popular speaker in the Midwest.Anneke also
advocated for women's education and established a girls' school,
which gained a reputation for excellence among German-Americans
in the Midwest and which she led for eighteen years until her death in
Milwaukee, Wisconsin, in 1884. Throughout her life, she spoke and
wrote on improving the lot of women and viewed the amelioration
of their social standing as a matter of human rights based on reason.
Keywords
Mathilde Anneke,
Suffragette,
German-American Forty-Eighter,
Social Entrepreneur,
Immigrant Entrepreneurs
Citation Information
Stephani Richards-Wilson. "Mathilde Franziska Anneke (1817-1884): Social Entrepreneur and Suffragette"
German Historical Institute's Immigrant Entrepreneurship Bulletin Supplement: The German-American Experience since 1700.
Vol. 12 (2016)
Available at: http://works.bepress.com/stephani_richards-wilson/32/