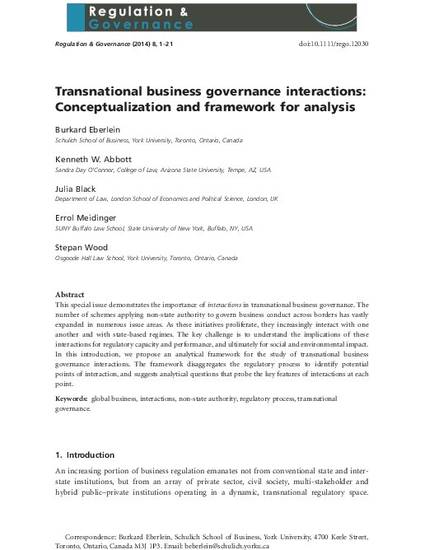 Article
Transnational Business Governance Interactions: Conceptualization and Framework for Analysis
Regulation & Governance, Volume 8, Issue 1 (March 2014), p. 1–21.
Publication Date
3-1-2014
Keywords
International business enterprises
Abstract
This special issue demonstrates the importance of interactions in transnational business governance. The number of schemes applying non-state authority to govern business conduct across borders has vastly expanded in numerous issue areas. As these initiatives proliferate, they increasingly interact with one another and with state-based regimes. The key challenge is to understand the implications of these interactions for regulatory capacity and performance, and ultimately for social and environmental impact. In this introduction, we propose an analytical framework for the study of transnational business governance interactions. The framework disaggregates the regulatory process to identify potential points of interaction, and suggests analytical questions that probe the key features of interactions at each point.
Creative Commons License
Creative Commons Attribution-Noncommercial-No Derivative Works 4.0
Citation Information
Burkard Eberlein, Kenneth W. Abbott, Julia Black, Errol Meidinger, et al.. "Transnational Business Governance Interactions: Conceptualization and Framework for Analysis"
Regulation & Governance, Volume 8, Issue 1 (March 2014), p. 1–21.
(2014)
Available at: http://works.bepress.com/stepan_wood/28/