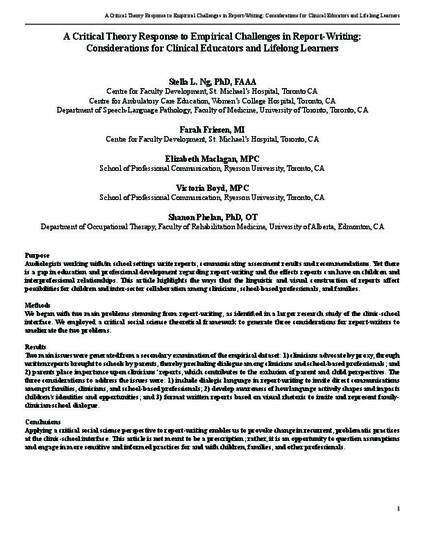 Article
A Critical Theory Response to Empirical Challenges in Report-Writing: Considerations for Clinical Educators and Lifelong Learners
Journal of Educational Audiology (2014)
Abstract
Purpose
Audiologists working with/in school settings write reports, communicating assessment results and recommendations. Yet there is a gap in education and professional development regarding report-writing and the effects reports can have on children and interprofessional relationships. This article highlights the ways that the linguistic and visual construction of reports affect possibilities for children and inter-sector collaboration among clinicians, school-based professionals, and families.
Methods
We began with two main problems stemming from report-writing, as identified in a larger research study of the clinic-school interface. We employed a critical social science theoretical framework to generate three considerations for report-writers to ameliorate the two problems.
Results
Two main issues were generated from a secondary examination of the empirical dataset: 1) clinicians advocate by proxy, through written reports brought to schools by parents, thereby precluding dialogue among clinicians and school-based professionals; and 2) parents place importance upon clinicians' reports, which contributes to the exclusion of parent and child perspectives. The three considerations to address the issues were: 1) include dialogic language in report-writing to invite direct communications amongst families, clinicians, and school-based professionals; 2) develop awareness of how language actively shapes and impacts children's identities and opportunities; and 3) format written reports based on visual rhetoric to invite and represent family-clinician-school dialogue.
Conclusions
Applying a critical social science perspective to report-writing enables us to provoke change in recurrent, problematic practices at the clinic-school interface. This article is not meant to be a prescription; rather, it is an opportunity to question assumptions and engage in more sensitive and informed practices for and with children, families, and other professionals.
Keywords
interprofessional; special education; medical education; audiology
Citation Information
Stella Ng. "A Critical Theory Response to Empirical Challenges in Report-Writing: Considerations for Clinical Educators and Lifelong Learners"
Journal of Educational Audiology
(2014)
Available at: http://works.bepress.com/stella_ng/16/