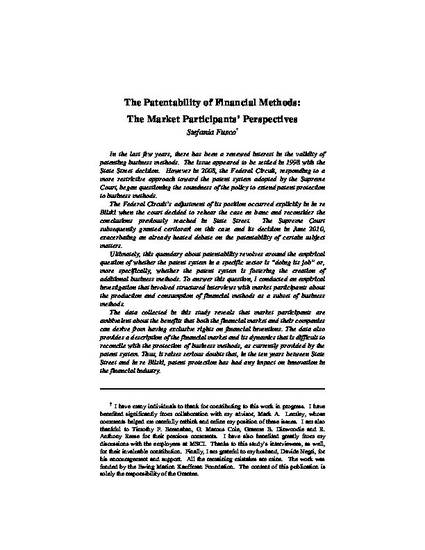 Unpublished Paper
The Patentability of Financial Methods: The Market Participants' Perspectives
ExpressO (2011)
Abstract
In the last few years, there has been a renewed interest in the validity of patenting business methods. The issue appeared to be settled in 1998 with the State Street decision. However in 2008, the Federal Circuit, responding to a more restrictive approach toward the patent system adopted by the Supreme Court, began questioning the soundness of the policy to extend patent protection to business methods.
The Federal Circuit's adaptation of its position occurred explicitly in In re Bilski when the court decided to rehear the case en banc and reconsider the conclusions previously reached in State Street. The Supreme Court subsequently granted certiorari on this case and its decision in June 2010, exacerbating an already heated debate on the patentability of certain subject matters.
Ultimately, this quandary about patentability revolves around the empirical question of whether the patent system in a specific sector is "doing its job" or, more specifically, whether the patent system is fostering the creation of additional business methods. To answer this question, I conducted an empirical investigation that involved structured interviews with market participants about the production and consumption of financial methods as a subset of business methods.
The data collected in this study reveals that market participants are ambivalent about the benefits that both the financial market and their companies can derive from having exclusive rights on financial inventions. The data also provides a description of the financial market and its dynamics that is difficult to reconcile with the protection of business methods, as currently provided by the patent system. Thus, it raises serious doubts that, in the ten years between State Street and In re Bilski, patent protection has had any impact on innovation in the financial industry.
Keywords
Patents,
patent applications,
Bilski,
finance,
financial methods,
patentable subject matter,
business methods
Publication Date
March 28, 2011
Citation Information
Stefania Fusco. "The Patentability of Financial Methods: The Market Participants' Perspectives"
ExpressO
(2011)
Available at: http://works.bepress.com/stefania_fusco/1/