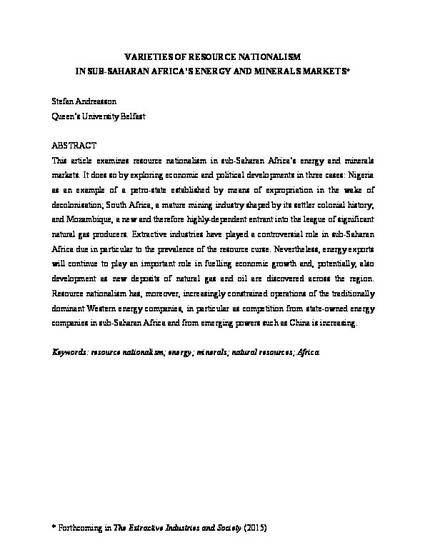 Article
Varieties of Resource Nationalism in Sub-Saharan Africa's Energy and Minerals Markets
The Extractive Industries and Society (2015)
Abstract
This article examines resource nationalism in sub-Saharan Africa's energy and minerals markets. It does so by exploring economic and political developments in three cases: Nigeria as an example of a petro-state established by means of expropriation in the wake of decolonisation; South Africa, a mature mining industry shaped by its settler colonial history; and Mozambique, a new and therefore highly-dependent entrant into the league of significant natural gas producers. Extractive industries have played a controversial role in sub-Saharan Africa due in particular to the prevalence of the resource curse. Nevertheless, energy exports will continue to play an important role in fuelling economic growth and, potentially, also development as new deposits of natural gas and oil are discovered across the region. Resource nationalism has, moreover, increasingly constrained operations of the traditionally dominant Western energy companies, in particular as competition from state-owned energy companies in sub-Saharan Africa and from emerging powers such as China is increasing.
Keywords
resource nationalism,
energy,
minerals,
natural resources,
Africa
Citation Information
Stefan Andreasson. "Varieties of Resource Nationalism in Sub-Saharan Africa's Energy and Minerals Markets"
The Extractive Industries and Society
(2015)
Available at: http://works.bepress.com/stefan_andreasson/19/