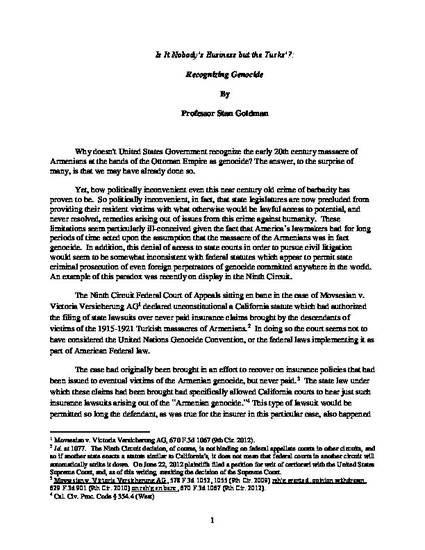 Unpublished Paper
Is It Nobody's Business But the Turks': Recognizing Genocide?
ExpressO (2012)
Abstract
The Ninth Circuit Federal Court of Appeals sitting en banc in the case of Movsesian v. Victoria Versicherung AG declared unconstitutional a California statute which had authorized the filing of state lawsuits over never paid insurance claims brought by the descendants of victims of the 1915-1921 Turkish massacres of Armenians. While the Ninth Circuit suggested that any State may possess the power to acknowledge the massacre of the Armenians as having been "genocide," California had intruded into a politically charged area in a way that amounted to establishing a particular foreign policy for the state. In its decision, the Ninth Circuit neglected to even mention the United States ratification of the United Nations Genocide Convention, nor did it discuss the federal implementation legislation enacted after ratification. That legislation would appear to have conceded to the states a right to bring domestic criminal proceedings against perpetrators of genocide (physically present in that state) regardless of where the offense had been committed.
The author of this article suggests that the Ninth Circuit decision has created the anomaly that a state would be constitutionally permitted to criminally prosecute those guilty of past genocides, such as the massacres occurring in Darfur, but would not be constitutionally permitted to provide civil remedies against those same perpetrators or any others assisted them or who may have been unjustly enriched as a result of the genocide.
Publication Date
October 11, 2012
Citation Information
stanley a goldman. "Is It Nobody's Business But the Turks': Recognizing Genocide?"
ExpressO
(2012)
Available at: http://works.bepress.com/stanley_goldman/1/