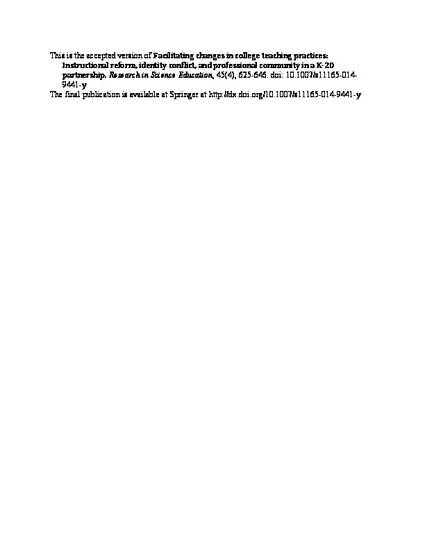 Article
Facilitating Changes in College Teaching Practices: Instructional Reform, Identity Conflict and Professional Community in a K-20 Partnership
Research in Science Education (2015)
Abstract
In this paper, I explain variation in the adoption of student-centred teaching practices among college faculty members in a program designed to promote K-20 instructional reform. I analyze data from a qualitative study of a Math and Science Partnership in order to understand why some faculty members had undergone extensive changes to their practices whereas others had not, even though both groups had demonstrated changes in their beliefs. Findings show that when collective identities focused on reform become more salient than the role identities associated with their teaching positions, faculty members are able to persist through the loss of self-efficacy that results from struggles with new student-centred practices. This study demonstrates how professional communities can enhance "collective efficacy", thereby affecting whether the cognitive dissonance that accompanies professional development leads to instructional change rather than disengagement from reform initiatives.
Keywords
self-efficacy,
mathematics education,
science education,
identity,
education reform,
K-20 partnerships
Publication Date
October, 2015
DOI
10.1007/s11165-014-9441-y
Citation Information
Olitsky, S. (2015). Facilitating changes in college teaching practices: Instructional reform, identity conflict, and professional community in a K-20 partnership. Research in Science Education, 45(4), 625-646.