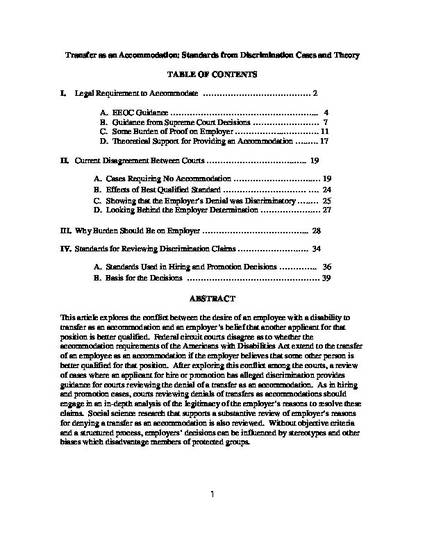 Unpublished Paper
Transfer as an Accommodation: Standards from Discrimination Cases and Theory
ExpressO (2009)
Abstract
This article explores the conflict between the desire of an employee with a disability to transfer as an accommodation and an employer's belief that another applicant for that position is better qualified. Federal circuit courts disagree as to whether the accommodation requirements of the Americans with Disabilities Act extend to the transfer of an employee as an accommodation if the employer believes that some other person is better qualified for that position. After exploring this conflict among the courts, a review of cases where an applicant for hire or promotion has alleged discrimination provides guidance for courts reviewing the denial of a transfer as an accommodation. As in hiring and promotion cases, courts reviewing denials of transfers as accommodations should engage in an in-depth analysis of the legitimacy of the employer's reasons to resolve these claims. Social science research that supports a substantive review of employer's reasons for denying a transfer as an accommodation is also reviewed. Without objective criteria and a structured process, employers' decisions can be influenced by stereotypes and other biases which disadvantage members of protected groups.
Keywords
employment discrimination,
disability,
accommodation
Publication Date
February 4, 2009
Citation Information
Transfer as an Accommodation: Standards from Discrimination Cases and Research
, 62
Ark. L. Rev.
195 (2009).