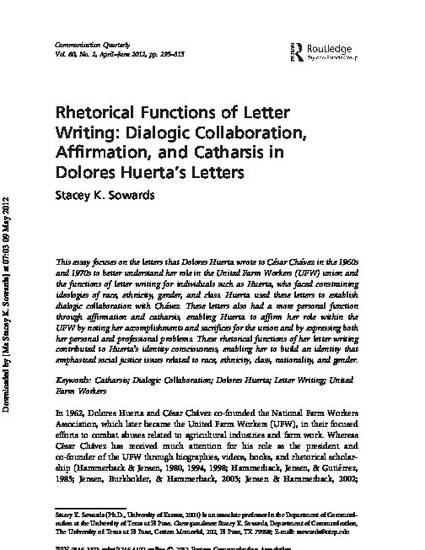 Article
Rhetorical Functions of Letter Writing: Dialogic Collaboration, Affirmation, and Catharsis in Dolores Huerta's Letters
Communication Quarterly (2012)
Abstract
This essay focuses on the letters that Dolores Huerta wrote to Ce´sar Cha´vez in the 1960s and 1970s to better understand her role in the United Farm Workers (UFW) union and the functions of letter writing for individuals such as Huerta, who faced constraining ideologies of race, ethnicity, gender, and class. Huerta used these letters to establish dialogic collaboration with Cha´vez. These letters also had a more personal function through affirmation and catharsis, enabling Huerta to affirm her role within the UFW by noting her accomplishments and sacrifices for the union and by expressing both her personal and professional problems. These rhetorical functions of her letter writing contributed to Huerta's identity consciousness, enabling her to build an identity that emphasized social justice issues related to race, ethnicity, class, nationality, and gender.
Keywords
Dolores Huerta,
United Farm Workers,
letter writing
Citation Information
Stacey Sowards. "Rhetorical Functions of Letter Writing: Dialogic Collaboration, Affirmation, and Catharsis in Dolores Huerta's Letters"
Communication Quarterly
Vol. 60 Iss. 2 (2012)
Available at: http://works.bepress.com/stacey_sowards/17/