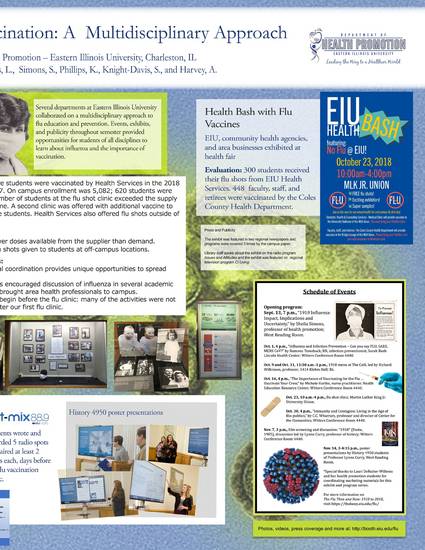 Presentation
Increasing flu vaccine awareness and use in college students: A multidisciplinary approach
Society for Public Health Education (SOPHE) (2019)
Abstract
Among college students, flu vaccination rates are abysmal. The unique barriers students face are numerous. This effort explores the value of a multidisciplinary approach to increasing flu vaccination. To improve vaccine rates, several departments have teamed up for a multidisciplinary approach to flu education and prevention. Plans for the entire semester are in place to highlight the importance flu prevention. Events include vaccination clinics, a library exhibit, talks, movie screenings, student work, themed menu items at the student café, and a competition. Vaccination rates will be assessed at the end of the fall semester and reported. We expect using a multi-disciplinary approach will increase students' awareness of influenza's severity and their vulnerability to it. Through a sense of community, students will protect their campus, and more students will receive the vaccine.
Keywords
influenza,
exhibits,
vaccination
Publication Date
March 29, 2019
Location
Salt Lake City, UT
Citation Information
Stacey Knight-Davis, Nikki Hillier, Lauri J. DeRuiter-Willems, Amanda Harvey, et al.. "Increasing flu vaccine awareness and use in college students: A multidisciplinary approach"
Society for Public Health Education (SOPHE)
(2019)
Available at: http://works.bepress.com/stacey_knight-davis/75/
Creative Commons License
This work is licensed under a Creative Commons CC_BY-NC-ND International License.