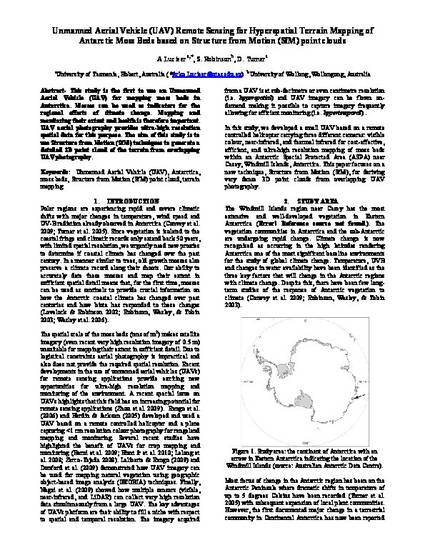 Presentation
Unmanned aerial vehicle (UAV) remote sensing for hyperspatial terrain mapping of Antarctic moss beds based on structure from motion (SfM) point clouds
34th International Symposium on Remote Sensing of Environment
Publication Date
1-1-2011
Abstract
This study is the first to use an Unmanned Aerial Vehicle (UAV) for mapping moss beds in Antarctica. Mosses can be used as indicators for the regional effects of climate change. Mapping and monitoring their extent and health is therefore important. UAV aerial photography provides ultra-high resolution spatial data for this purpose. The aim of this study is to use Structure from Motion (SfM) techniques to generate a detailed 3D point cloud of the terrain from overlapping UAV photography.
Citation Information
A Lucieer, Sharon A. Robinson and D Turner. "Unmanned aerial vehicle (UAV) remote sensing for hyperspatial terrain mapping of Antarctic moss beds based on structure from motion (SfM) point clouds"
34th International Symposium on Remote Sensing of Environment
(2011) p. 1 - 4
Available at: http://works.bepress.com/srobinson/50/