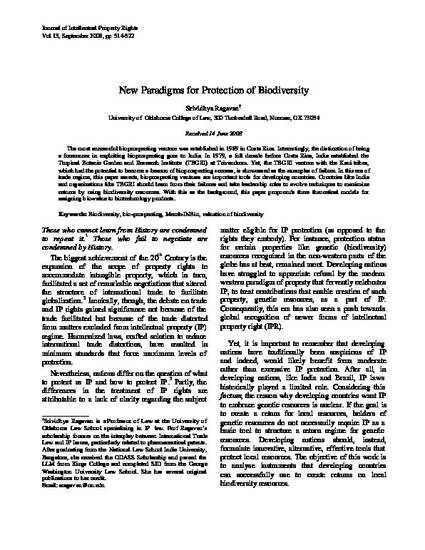 Article
New Paradigms For Protection Of Biodiversity
Journal of Intellectual Property Rights
Abstract
The most successful bioprospecting venture was established in 1989 in Costa Rica. Interestingly, the distinction of being a forerunner in exploiting bioprospecting goes to India. In 1979, a full decade before Costa Rica, India established the TBGRI (Tropical Botanic Garden and Research Institute) at Trivandrum.

Yet, the TBGRI venture with the Kani Tribes, which had the potential to become a beacon of bioprospecting success, is showcased as the exemplar of failure. In this era of trade regime, the following paper asserts, bioprospecting ventures are important tools for developing countries. Countries like India and organizations like the TBGRI should learn from their failures and take leadership roles to evolve techniques to maximize returns from using biodiversity resources. With this as the background, this chapter propounds three theoretical models for assigning bio-value to biotechnology products.
Citation Information
Srividhya Ragavan. "New Paradigms For Protection Of Biodiversity"
Journal of Intellectual Property Rights
Vol. 13 (2008) p. 514 - 522
Available at: http://works.bepress.com/srividhya_ragavan/298/