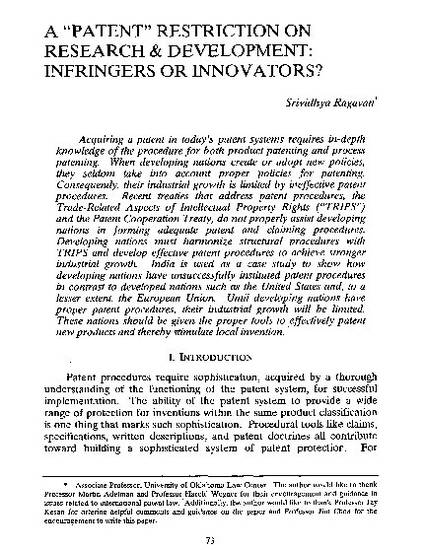 Article
A "Patent" Restriction on Research & Development: Infringers or Innovators?
University of Illinois Journal of Law, Technology & Policy
Abstract
The Trade Related Aspects of Intellectual Property Rights ("TRIPS") requires developing nations to harmonize patent regimes as a means to achieve stronger industrial growth. Countries, however, need to adopt effective patent procedures in order to successfully institute a patent regime. In spite of this, international treaties like TRIPS do not properly assist developing nations in establishing appropriate procedural mechanisms capable of complimenting a sophisticated patent regime. Consequently, developing nations may embrace ineffective patent procedures that can eventually further limit industrial growth despite establishing a TRIPS compliant patent regime. The paper uses India as a case study to demonstrate the detriments of not instituting appropriate patent procedures assuming India embraces a product patent regime as required under TRIPS. Then, the paper contrasts the procedural mechanisms established in patent regimes of developed nations such as the United States and, to a lesser extent, the European Union. The solution for patent harmonization lies in adequately complimenting patent regimes by equipping developing nations with appropriate and flexible procedural tools, based on national needs, to ultimately encourage local invention.
Citation Information
Srividhya Ragavan. "A "Patent" Restriction on Research & Development: Infringers or Innovators?"
University of Illinois Journal of Law, Technology & Policy
Vol. 2004 Iss. 1 (2004) p. 73 - 98
Available at: http://works.bepress.com/srividhya_ragavan/289/