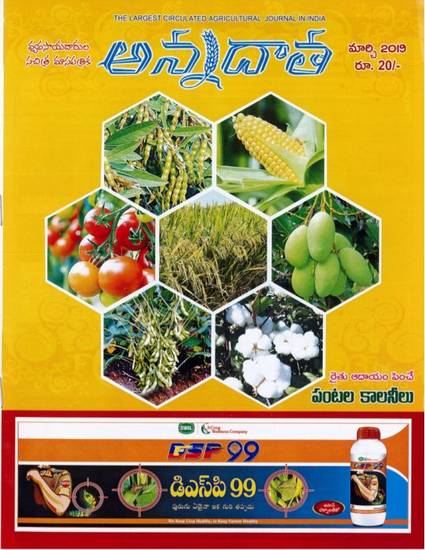 Popular Press
ఉద్యన పంటలకు కొత్త సూక్ష్మజీవ మిశ్రమం (A new microbial mixture for movement crops)
అన్నదాత (Annadata) (2019)
Abstract
పంటమొక్కలరజోస్పియర్లోప్రయోజనకరమైనసూక్ష్మజీవులనునిలుపుకోవటానికిఅవసరమైనసమ్మేళనాలలభ్యతమరియుసరైనడెలివరీసిస్టమ్లువంటివి
లేకపోవడం
వలనప్రస్తుతంచాలామందిరైతులుబయోఎరువులు
ఉపయోగించడం లేదు.
ఈసమస్యపరిష్కారానికి
,
బెంగళూరులోనిభారత  ఉదయాన పరిశోధన సంస్ధ ఆర్కామైక్రోబియల్కన్సార్టియం
(
AMC)
నుఅభివృద్ధిచేసింది
.
At present, most farmers don't apply bio-fertilizers due to various reasons such as slow visual effect, poor performance of inoculants, non availability of all inoculants at the required time and poor awareness. To overcome these issues, suitable formulations and appropriate delivery systems are required for the retention of the inoculated beneficial microbes in the rhizosphere of crop plants. Hence, development of rhizo-competent bio-inoculants for better colonization and functionality in vegetable rhizosphere is essential. It has always been felt that the combined inoculation of more than one inoculant strain gives better results than the inoculation of a single strain. In order to address this issue, the Division of Soil Science and Agriculture Chemistry, ICAR-Indian Institute of Horticultural Research, Bengaluru initiated research during 2007 and has come out with the Arka Microbial Consortium (AMC). This technology reduces the input cost while exploiting the synergistic effects of the individual microbes, used in the formulation.
Keywords
Microbial Consortium,
Biofertilisers,
Soil Health
Publication Date
March 1, 2019
Citation Information
Selvakumar G, Sridhar G and Jayalakshmi M. "ఉద్యన పంటలకు కొత్త సూక్ష్మజీవ మిశ్రమం (A new microbial mixture for movement crops)"
అన్నదాత (Annadata)
Vol. 51 Iss. 3 (2019) p. 37 - 37
Available at: http://works.bepress.com/sridhar_gutam/67/