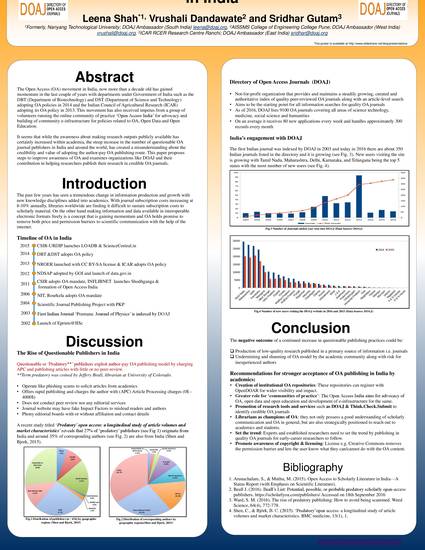 Contribution to Book
The Changing Landscape and Future of Open Access in India
International Conference on Digital Libraries (ICDL) 2016: Smart Future: Knowledge Trends that will Change the World (2016)
Abstract
The past few years has seen a tremendous change in information production and growth with new knowledge disciplines added into academics. With journal subscription costs increasing at 8-10% annually(Miller 2015), libraries worldwide are finding it difficult to sustain subscription costs to scholarly material. On the other hand making information and data available in interoperable electronic formats freely is a concept that is gaining momentum and OA (Open Access) holds promise to remove both price and permission barriers to scientific communication with the help of the internet. Scientists, policy makers, NGOs, government agencies and librarians are also collaborating together for OA implementation and making knowledge affordable to all
.
OA journals play a key role in making scholarly material immediately available on the internet.
Publication Date
December 13, 2016
Editor
Shantanu Ganguly, P K Bhattacharya, Projes Roy, Pallavi Shukla and N Deepa
Citation Information
Leena Shah, Vrushali Dandawate and Sridhar Gutam. "The Changing Landscape and Future of Open Access in India" New Delhi
International Conference on Digital Libraries (ICDL) 2016: Smart Future: Knowledge Trends that will Change the World
(2016)
Available at: http://works.bepress.com/sridhar_gutam/65/
Creative Commons License
This work is licensed under a Creative Commons CC_BY International License.