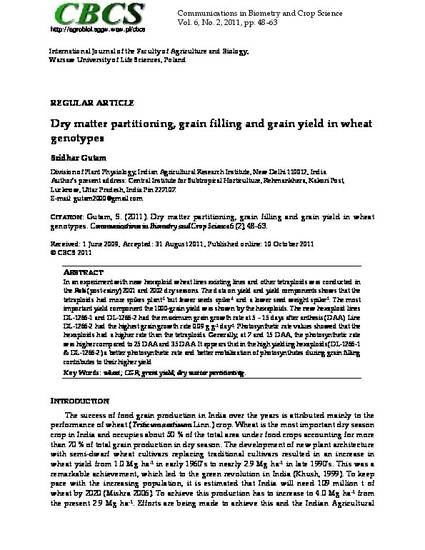 Article
Dry matter partitioning, grain filling and grain yield in wheat genotype
Communications in Biometry and Crop Science (2011)
Abstract
In an experiment with new hexaploid wheat lines existing lines and other tetraploids was conducted in the Rabi (post-rainy) 2001 and 2002 dry seasons. The data on yield and yield components shows that the tetraploids had more spikes plant-1 but fewer seeds spike-1 and a lower seed weight spike-1. The most important yield component the 1000-grain yield was shown by the hexaploids. The new hexaploid lines DL-1266-1 and DL-1266-2 had the maximum grain growth rate at 5 – 15 days after anthesis (DAA). Line DL-1266-2 had the highest grain growth rate 0.09 g g-1 day-1. Photosynthetic rate values showed that the hexaploids had a higher rate than the tetraploids. Generally, at 7 and 15 DAA, the photosynthetic rate was higher compared to 25 DAA and 35 DAA. It appears that in the high yielding hexaploids (DL-1266-1 & DL-1266-2) a better photosynthetic rate and better mobilization of photosynthates during grain filling contributes to their higher yield.
Keywords
wheat,
grain filling,
dry matter
Publication Date
October, 2011
Citation Information
Sridhar Gutam. "Dry matter partitioning, grain filling and grain yield in wheat genotype"
Communications in Biometry and Crop Science
Vol. 6 Iss. 2 (2011)
Available at: http://works.bepress.com/sridhar_gutam/16/
Creative Commons license
This work is licensed under a Creative Commons CC_BY International License.