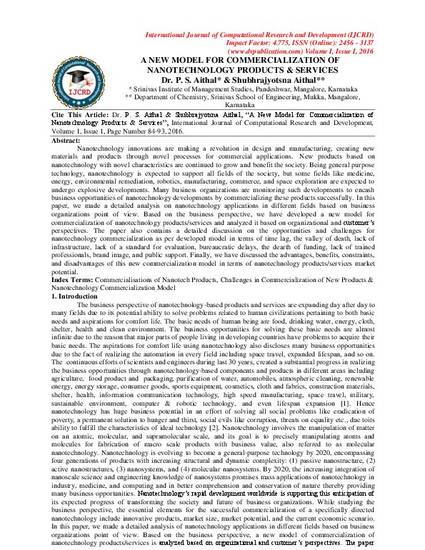 Article
A New Model for Commercialization of Nanotechnology Products and Services
International Journal of Computational Research and Development (2016)
Abstract
Nanotechnology innovations are making a revolution in design and manufacturing, creating new materials and products through novel processes for commercial applications. New products based on nanotechnology with novel characteristics are continued to grow and benefit the society. Being general purpose technology, nanotechnology is expected to support all fields of the society, but some fields like medicine, energy, environmental remediation, robotics, manufacturing, commerce, and space exploration are expected to undergo explosive developments. Many business organizations are monitoring such developments to encash business opportunities of nanotechnology developments by commercializing these products successfully. In this paper, we made a detailed analysis on nanotechnology applications in different fields based on business organizations point of view. Based on the business perspective, we have developed a new model for commercialization of nanotechnology products/services and analyzed it based on organizational and customer's perspectives. The paper also contains a detailed discussion on the opportunities and challenges for nanotechnology commercialization as per developed model in terms of time lag, the valley of death, lack of infrastructure, lack of a standard for evaluation, bureaucratic delays, the dearth of funding, lack of trained professionals, brand image, and public support. Finally, we have discussed the advantages, benefits, constraints, and disadvantages of this new commercialization model in terms of nanotechnology products/services market potential.
Keywords
Commercialisations of Nanotech Products,
Challenges in Commercialization of New Products
Publication Date
September 19, 2016
DOI
http://doi.org/10.5281/zenodo.163536.
Citation Information
Aithal, P. S. & Shubhrajyotsna Aithal, (2016). A New Model for Commercialization of Nanotechnology Products and Services. International Journal of Computational Research and Development, Vol. 1, Issue 1, pp. 84-93.
Creative Commons license
This work is licensed under a Creative Commons CC_BY-NC International License.