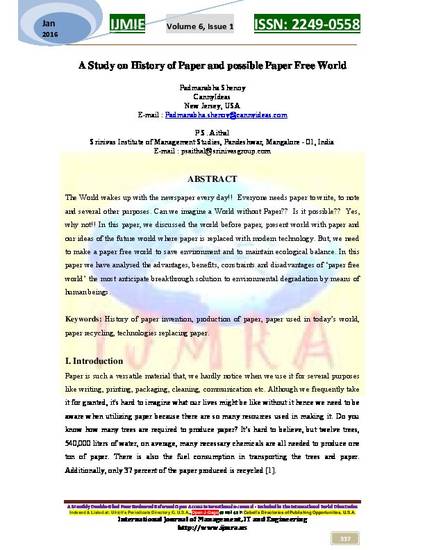 Article
A Study on History of Paper and possible Paper Free World
International Journal of Management, IT and Engineering (2016)
Abstract
The World wakes up with the newspaper every day!! Everyone needs paper to write, to note
and several other purposes. Can we imagine a World without Paper?? Is it possible?? Yes,
why not!! In this paper, we discussed the world before paper, present world with paper and
our ideas of the future world where paper is replaced with modern technology. But, we need
to make a paper free world to save environment and to maintain ecological balance. In this
paper we have analysed the advantages, benefits, constraints and disadvantages of 'paper free
world' the most anticipate breakthrough solution to environmental degradation by means of
human beings.
Keywords
History of paper invention,
production of paper,
paper used in today's world,
paper recycling,
technologies replacing paper.
Publication Date
January, 2016
Citation Information
Padmanabha Shenoy, and P.S. Aithal (2016) A Study on History of Paper and possible Paper Free World, International Journal of Management, IT and Engineering (IJMIE), Volume 6, Issue 1, pp. 337-355, (January 2016)