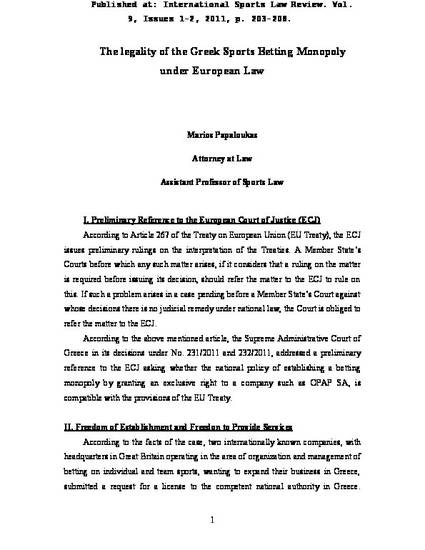 Article
The legality of the Greek Sports Betting Monopoly under European Law
Ιnternational Sports Law Review (2011)
Abstract
Is it possible, a company that is enlisted on the stock market which by definition seeks primarily to increase profits and to protect the investor's interests, instead to protect consumers from the services offered by itself. This public service provided would it not conflict its operation as a profit seeking business? And if indeed it were so, would not this be misleading for its investors and should not this be clearly stated in its prospectus informing its investors-shareholders that this company is not primarily aiming at protecting the investors financial interests, like all other publicly traded companies but rather that it seeks instead to implement public policy and public order objectives?
Keywords
betting,
sport betting,
monopoly,
internal market,
sport law,
CJEU case law
Citation Information
Marios Papaloukas. "The legality of the Greek Sports Betting Monopoly under European Law"
Ιnternational Sports Law Review
Vol. 9 Iss. 1-2 (2011)
Available at: http://works.bepress.com/sports_law/28/