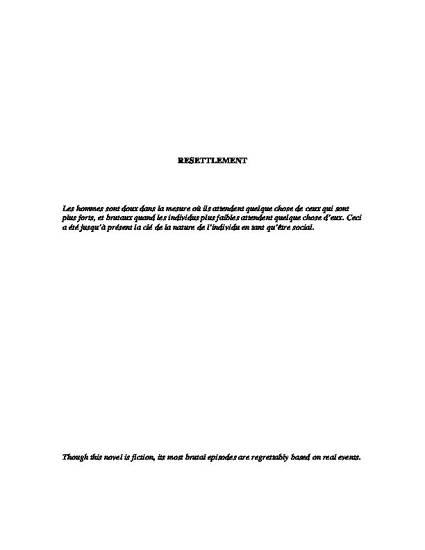 Abstract
My debut novel, Resettlement, tells the fictional story of Arès Sbigzenou, a Congolese refugee left for dead in the wake of ethnic violence. Arès' fate, like the fate of millions, sends him on a kinetic flight across the badlands of northern Africa with Europe as his goal. On the way he encounters a colorful cast ranging from Rwandan rappers to Nigerian marauders, Congolese crooks, Algerian border smugglers, metisse Berber Rastas and a fast-talking Cameroonian trader. At last he arrives in Rabat, Morocco, but finds the way forward blocked. Forced by circumstances to register as a refugee, Arès unwittingly binds himself to a desperate community of exiles who will try anything to make it to the promised land of Europe. Slowly, tensions mount.
Resettlement carries the reader to the slums of Rabat, where refugees shuttle between sudden evictions, and dodge stones and slurs in the streets. It braves the battlegrounds of Melilla and Ceuta, where thousands of Africans mass in the pre-dawn light, preparing to assault the barbed Spanish enclaves. It rides with Arès on a leaky wreck, overloaded with migrants, that washes across storm-tossed seas in search of Spanish shores.
Part comédie humaine in the Maghreb, part epic tale of hope and perseverance, Resettlement is also a personal meditation on surviving trauma.
Keywords
Resettlement,
Refugee,
Congo,
DRC,
Morocco
Citation Information
Spencer Wolff. Resettlement. (2012)
Available at: http://works.bepress.com/spencer_wolff/1/