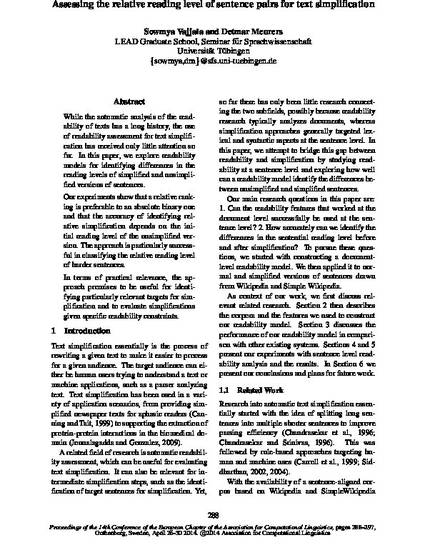 Presentation
Assessing the relative reading level of sentence pairs for text simplification
Proceedings of the 14th Conference of the European Chapter of the Association for Computational Linguistics (2014)
Abstract
While the automatic analysis of the readability of texts has a long history, the use of readability assessment for text simplification has received only little attention so far. In this paper, we explore readability models for identifying differences in the reading levels of simplified and unsimplified versions of sentences.
Our experiments show that a relative ranking is preferable to an absolute binary one and that the accuracy of identifying relative simplification depends on the initial reading level of the unsimplified version. The approach is particularly successful in classifying the relative reading level of harder sentences.
In terms of practical relevance, the approach promises to be useful for identifying particularly relevant targets for simplification and to evaluate simplifications given specific readability constraints. 
Publication Date
April, 2014
Location
Gothenburg, Sweden
Citation Information
Sowmya Vajjala and Detmar Meurers. "Assessing the relative reading level of sentence pairs for text simplification"
Proceedings of the 14th Conference of the European Chapter of the Association for Computational Linguistics
(2014)
Available at: http://works.bepress.com/sowmya-vajjala/9/