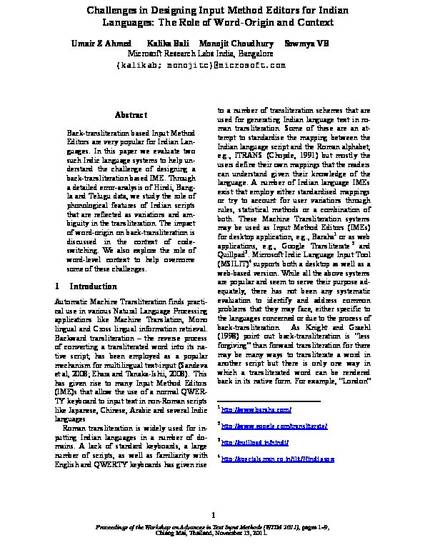 Presentation
Challenges in Designing Input Method Editors for Indian Languages: The Role of Word-Origin and Contex
Proceedings of the Workshop on Advances in Text Input Methods (2011)
Abstract
Back-transliteration based Input Method Editors are very popular for Indian Languages. In this paper we evaluate two such Indic language systems to help understand the challenge of designing a back-transliteration based IME. Through a detailed error-analysis of Hindi, Bangla and Telugu data, we study the role of phonological features of Indian scripts that are reflected as variations and ambiguity in the transliteration. The impact of word-origin on back-transliteration is discussed in the context of codeswitching. We also explore the role of word-level context to help overcome some of these challenges.
Publication Date
November, 2011
Location
Chiang Mai, Thailand
Citation Information
Umair Z. Ahmed, Kalika Bali, Monojit Choudhury and Sowmya Vajjala. "Challenges in Designing Input Method Editors for Indian Languages: The Role of Word-Origin and Contex"
Proceedings of the Workshop on Advances in Text Input Methods
(2011)
Available at: http://works.bepress.com/sowmya-vajjala/7/