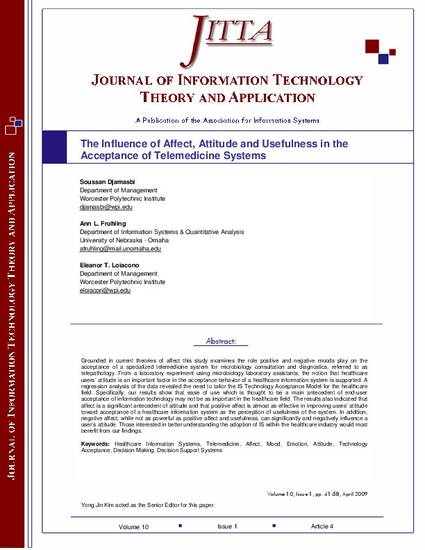 Article
The Influence of Affect, Attitude and Usefulness in the Acceptance of Telemedicine Systems
Journal of Information Technology Theory and Application (JITTA)
Abstract
Grounded in current theories of affect this study examines the role positive and negative moods play on the acceptance of a specialized telemedicine system for microbiology consultation and diagnostics, referred to as telepathology. From a laboratory experiment using microbiology laboratory assistants, the notion that healthcare users' attitude is an important factor in the acceptance behavior of a healthcare information system is supported. A regression analysis of the data revealed the need to tailor the IS Technology Acceptance Model for the healthcare field. Specifically, our results show that ease of use which is thought to be a main antecedent of end-user acceptance of information technology may not be as important in the healthcare field. The results also indicated that affect is a significant antecedent of attitude and that positive affect is almost as effective in improving users' attitude toward acceptance of a healthcare information system as the perception of usefulness of the system. In addition, negative affect, while not as powerful as positive affect and usefulness, can significantly and negatively influence a user's attitude. Those interested in better understanding the adoption of IS within the healthcare industry would most benefit from our findings.
Citation Information
Soussan Djamasbi, Ann Fruhling and Eleanor Loiacono. "The Influence of Affect, Attitude and Usefulness in the Acceptance of Telemedicine Systems"
Available at: http://works.bepress.com/soussan_djamasbi/7/