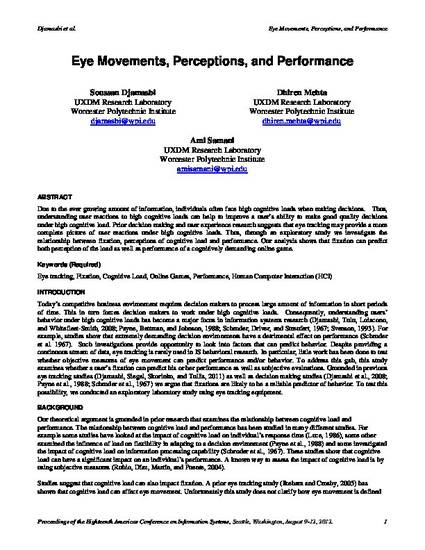 Article
Eye Movements, Perceptions, and Performance
AMCIS 2012 Proceedings
Abstract
Due to the ever growing amount of information, individuals often face high cognitive loads when making decisions. Thus, understanding user reactions to high cognitive loads can help to improve a user's ability to make good quality decisions under high cognitive load. Prior decision making and user experience research suggest that eye tracking may provide a more complete picture of user reactions under high cognitive loads. Thus, through an exploratory study we investigate the relationship between fixation, perceptions of cognitive load and performance. Our analysis shows that fixation can predict both perception of the load as well as performance of a cognitively demanding online game.
Citation Information
Soussan Djamasbi, Ami Samani and Dhiren Mehta. "Eye Movements, Perceptions, and Performance"
Available at: http://works.bepress.com/soussan_djamasbi/5/