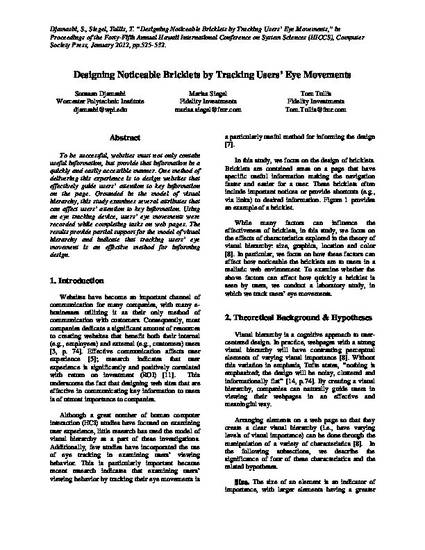 Article
Designing Noticeable Bricklets by Tracking Users' Eye Movements
Proceedings of the Forty-Fifth Annual Hawaii International Conference on System Sciences (HICCS), Computer Society Press
Publication Date
1-1-2012
Abstract
To be successful, websites must not only contain useful information, but provide that information in a quickly and easily accessible manner. One method of delivering this experience is to design websites that effectively guide users' attention to key information on the page. Grounded in the model of visual hierarchy, this study examines several attributes that can affect users' attention to key information. Using an eye tracking device, users' eye movements were recorded while completing tasks on web pages. The results provide partial support for the model of visual hierarchy and indicate that tracking users' eye movement is an effective method for informing design.
Conference Title
Proceedings of the Forty-Fifth Annual Hawaii International Conference on System Sciences (HICCS)
Citation Information
Soussan Djamasbi, Marisa Siegel and Tom Tullis. "Designing Noticeable Bricklets by Tracking Users' Eye Movements"
Proceedings of the Forty-Fifth Annual Hawaii International Conference on System Sciences (HICCS), Computer Society Press
(2012) p. 525 - 532
Available at: http://works.bepress.com/soussan_djamasbi/36/