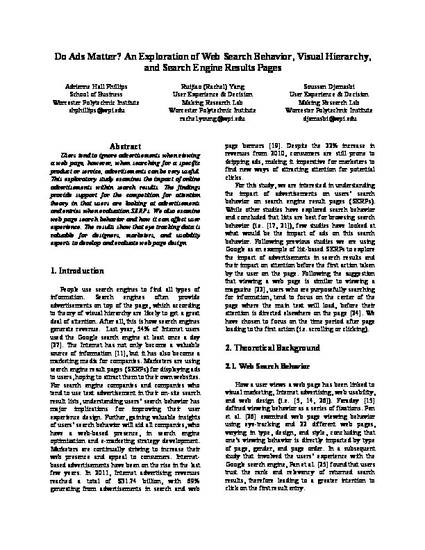 Article
Do Ads Matter? An Exploration of Web Search Behavior, Visual Hierarchy, and Search Engine Results Pages
Computer Society Press
Publication Date
1-1-2013
Abstract
Users tend to ignore advertisements when viewing a web page, however, when searching for a specific product or service, advertisements can be very useful. This exploratory study examines the impact of online advertisements within search results. The findings provide support for the competition for attention theory in that users are looking at advertisements and entries when evaluation SERPs. We also examine web page search behavior and how it can affect user experience. The results show that eye tracking data is valuable for designers, marketers, and usability experts to develop and evaluate web page design.
Conference Title
Proceedings of the Forty-Sixth Annual Hawaii International Conference on System Sciences (HICCS)
Citation Information
Adrienne Hall-Phillips, Ruijiao (Rachel) Yang and Soussan Djamasbi. "Do Ads Matter? An Exploration of Web Search Behavior, Visual Hierarchy, and Search Engine Results Pages"
Computer Society Press
(2013)
Available at: http://works.bepress.com/soussan_djamasbi/34/