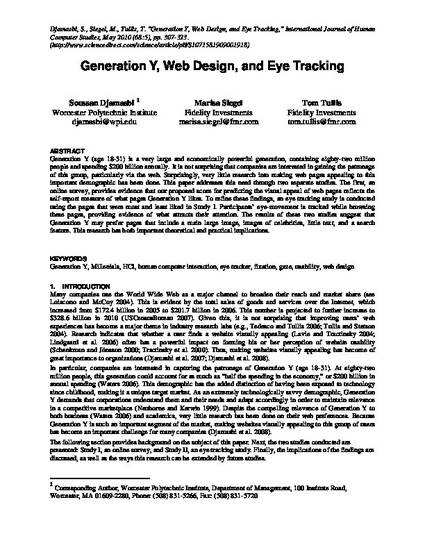 Article
Generation Y, Web Design, and Eye Tracking
International Journal of Human Computer Studies
Publication Date
5-1-2010
Abstract
Generation Y (age 18-31) is a very large and economically powerful generation, containing eighty-two million people and spending $200 billion annually. It is not surprising that companies are interested in gaining the patronage of this group, particularly via the web. Surprisingly, very little research into making web pages appealing to this important demographic has been done. This paper addresses this need through two separate studies. The first, an online survey, provides evidence that our proposed score for predicting the visual appeal of web pages reflects the self-report measure of what pages Generation Y likes. To refine these findings, an eye tracking study is conducted using the pages that were most and least liked in Study I. Participants' eye-movement is tracked while browsing these pages, providing evidence of what attracts their attention. The results of these two studies suggest that Generation Y may prefer pages that include a main large image, images of celebrities, little text, and a search feature. This research has both important theoretical and practical implications.
Citation Information
Soussan Djamasbi, Marisa Siegel and Tom Tullis. "Generation Y, Web Design, and Eye Tracking"
International Journal of Human Computer Studies
Vol. 68 Iss. 5 (2010) p. 307 - 323
Available at: http://works.bepress.com/soussan_djamasbi/17/