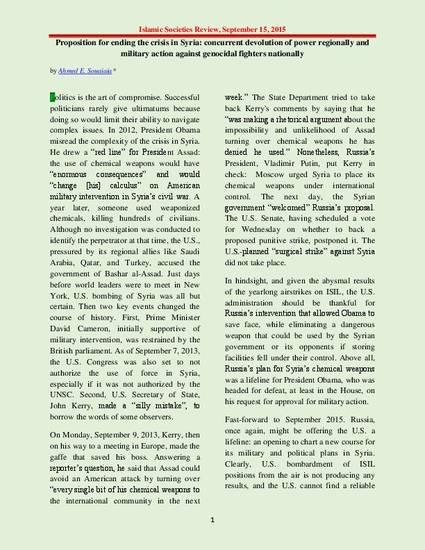 Popular Press
Proposition for ending the crisis in Syria: concurrent devolution of power regionally and military action against genocidal fighters nationally
Islamic Societies Review (2015)
Abstract
Syria's civil war is on a path to world war. Should Russia, like the Friends of Syria, take part in the military action in Syria and Iraq, the region will enter a new phase that could change the geopolitics of the region. However, Russia' military build up could force a political solution for a crisis that is impacting all many countries around the world.
Publication Date
Summer September 15, 2015
Citation Information
Ahmed E SOUAIAIA. "Proposition for ending the crisis in Syria: concurrent devolution of power regionally and military action against genocidal fighters nationally"
Islamic Societies Review
(2015)
Available at: http://works.bepress.com/souaiaia/26/