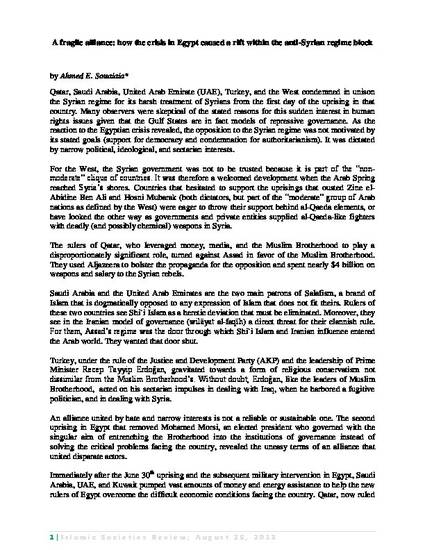 Popular Press
A fragile alliance: how the crisis in Egypt caused a rift within the anti-Syrian regime block
Islamic Societies Review (2013)
Abstract
Qatar, Saudi Arabia, United Arab Emirate (UAE), Turkey, and the West condemned in unison the Syrian regime for its harsh treatment of Syrians from the first day of the uprising in that country. Many observers were skeptical of the stated reasons for this sudden interest in human rights issues given that the Gulf States are in fact models of repressive governance. As the reaction to the Egyptian crisis revealed, the opposition to the Syrian regime was not motivated by its stated goals (support for democracy and condemnation for authoritarianism). It was dictated by narrow political, ideological, and sectarian interests.
Keywords
Arab Spring,
Syria,
Rebellion,
International affairs
Publication Date
Summer August 25, 2013
Citation Information
Ahmed E SOUAIAIA. "A fragile alliance: how the crisis in Egypt caused a rift within the anti-Syrian regime block"
Islamic Societies Review
(2013)
Available at: http://works.bepress.com/souaiaia/21/