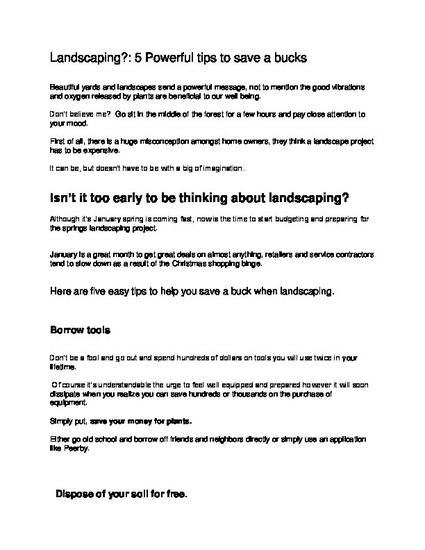 Article
Landscaping 5 Powerful tips to save bucks.docx
eco-dumpster (2018)
Abstract
Landscaping?: 5 Powerful tips to save bucks
Beautiful yards and landscapes send a powerful message, not to mention the good vibrations and oxygen released by plants are beneficial to our well being.  
Don't believe me?  Go sit in the middle of the forest for a few hours and pay close attention to your mood.  
First of all, there is a huge misconception amongst home owners, they think a landscape project has to be expensive.  
It can be, but doesn't have to be with a big of imagination.
Isn't it too early to be thinking about landscaping?
Although it's January spring is coming fast, now is the time to start budgeting and preparing for the springs landscaping project.
January is a great month to get great deals on almost anything, retailers and service contractors tend to slow down as a result of the Christmas shopping binge.   
Here are five easy tips to help you save a buck when landscaping.
Borrow tools
Don't be a fool and go out and spend hundreds of dollars on tools you will use twice in your lifetime.
 Of course it's understandable the urge to feel well equipped and prepared however it will soon dissipate when you realize you can save hundreds or thousands on the purchase of equipment.  
Simply put,
save your money for plants.
Either go old school and borrow off friends and neighbors directly or simply use an application like Peerby.
Dispose of your soil for free.  
Before calling a dirt removal company or hauling service ensure you exhaust free methods of disposal.    
Here are a few methods to dispose of the dirt produced from leveling your yard or other landscaping activities.  
According to
eco-dumpster®
a local bay area dumpster rental and dirt hauling service the best way to dispose of dirt is by using a combination of social media, craigslist and word of mouth.   
Also, call up some contractors they are usually in need of fill soil for projects.  
Also, call soil farms they are regularly in need of quality soil for amending into quality top soil.  
Keep in mind, your savings will increase if you live in a large city with limited real estate.  
Sweat Equity
First off, if you want to save money you're gonna have to get down and dirt.  Most landscaping involved some sort of soil grading.
Grading a small yard can be pricey because machines may not fit hence everything must be done by hand ala pick and shovel.
Put down some string and stakes, adjust the level you want and start digging.   Once you have a clear canvass call the landscaper or go renegade and do it yourself.
Decorative Mulch
While decorative mulch is not free it's definitely an easy way to add immediate curb appeal.  
Keep in mind, to maximize savings do not buy decorative mulch by the bag at your hardware store, no no!  
Instead call a garden supply store and ask for it "by the cubic yard"
Maximize your savings by having your buddy Earl pick it up in his beat up red pick up truck.
Call the local tree trimmer and score free mulch.
First of all, let me tell you how powerful this tip really is.  When in a pinch or low on funds using mulch to cover drought cracked soil is an amazing way to nourish your soil and increase the aesthetics.
Second, google tree service grab the phone and ask whether they supply free wood chips, 90% of every arborist called in the San Francisco bay  area did however your region may differ.  
Important to note most arborist use large debris dump trucks so dumping access will be necessary.
Initially the leaves from the tree chippings may be visible making the whole woodchip landscape venture seem like a bad idea.
However, don't despair as the leaves decompose you will be left with nothing but wood chippings.  
By following these easy tips you can easily save thousands of dollars by combining sweat equity with some of these applicable tips.  
Publication Date
Winter January 31, 2018
Citation Information
Sophie Connah. "Landscaping 5 Powerful tips to save bucks.docx"
eco-dumpster
(2018)
Available at: http://works.bepress.com/sophie-connah/4/