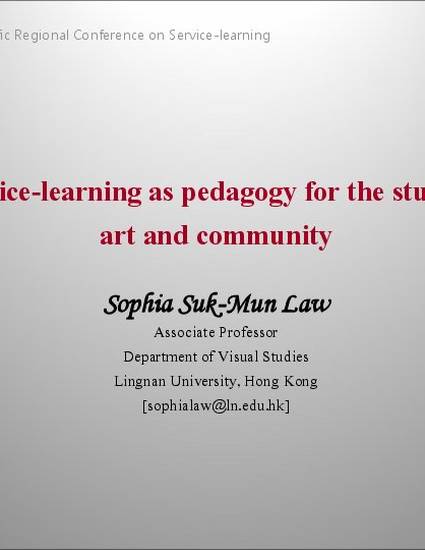 Presentation
Service-learning as pedagogy for the study of art and community
Asia-Pacific Regional Conference on Service-Learning 亞太地區服務研習會議
Location
MD202, Paul Cardinal Shen Medical Building, Fu Jen University
Start Date
28-5-2015 1:30 PM
End Date
28-5-2015 2:40 PM
Description
The study of art in higher education has long focused on art history and practice, masters and masterpieces. Art, in its fund amental sense, is a language written in images that applies to all, not just to the talented and privileged. It has a close relationship with and considerable influence on the development of both individuals and communities. Art and Well Being, a programme elective offered by the Department of Visual Studies at Lingnan University, investigates the intrinsic nature of art as a language for expression and communication. It provides students with a new perspective on seeing art, provoking an inquiry into how the expressive and communicative nature of art can promote the well-being of individuals and communities alike. Such an inquiry is best scrutinised through service learning. The incorporation of a well-structured service-learning research scheme (SLRS) into the aforementioned course gives students the opportunity to apply the theories learnt in class to real-life situations. Many of the art-related scenarios encountered in reality are so immediate and direct that they induce critical thinking, in-depth intellectual inquiry and genuine reflection, causing the individual to enact a process of internalisation from knowing to acting. More significantly, interaction with a cross-section of society draws students' attention to social issues and concerns, fostering a desire to care for others. The aim of this paper is to demonstrate a new art pedagogy in higher education exemplified by the course Art and Well Being, to show how it provides new insights into the study of art and community and show how service learning constitutes the best pedagogical tool for the course. The services in question are not ordinary leisure activities, but art facilitation workshops for specific target groups that can benefit from art and creativity, including intellectually disabled adults, ethnic minority children, autistic children, youth with behavioural problems and adult wheelchair users. The outcomes of the SLRS are encouraging. This paper elucidates the theoretical framework and structure of the scheme.
Citation Information
Law, S. S.-M. (2015, May). Service-learning as pedagogy for the study of art and community. Paper presented at the 5th Asia-Pacific Regional Conference on Service-Learning: Love Journey: Community Engagement through Service-Learning, Fu Jen Catholic University, Taiwan.